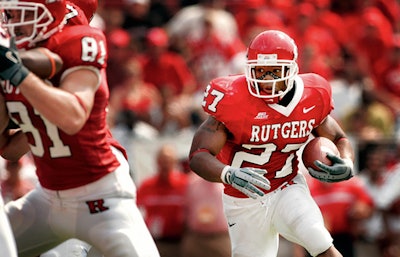 In light of the disturbing video of Ray Rice punching his then-fiancee in an Atlantic City elevator released yesterday by TMZ, Rutgers University is beginning to distance itself from its former star running back.
A school spokesperson says pictures and video highlights of Rice will no longer be shown at Rutgers football games because the running back is "not currently a player" in the NFL. Rice has also been removed from Rutgers' official website, ScarletKnights.com as one of its 18 players currently in the NFL. There is no word on if the school will remove pictures of Rice from its football facility.
"We update the 'Knights in the NFL' weekly to reflect active players in the league," spokesperson Tom Luicci said. Rice was part of the video last Saturday at Rutgers' home opener. His image was met with a mixed reaction of cheers and boos from the crowd of 48,040.
In the wake of the new video evidence, Rice was released by the Baltimore Ravens Monday afternoon and his contract was terminated. The NFL suspended him from the league indefinitely, after originally suspending him for just two games. Rice is Rutgers' all-time leading rusher and led the school to three consecutive bowl games from 2005-2007.
As columnist Steve Politi wrote in this scathing op/ed piece on NJ.com:
Rutgers rode Rice to its best season ever and has been riding him ever since, as its unofficial marketing and recruiting ambassador.
Come to Rutgers, college football fans, and see the next Ray Rice.
Come to Rutgers, high school football stars, and be like Ray Rice.
"I'm where Ray Rice was. Ray Rice school," is what Corey Sanders — a basketball recruit — told the world when he announced his decision to play for Eddie Jordan at Rutgers. That's how young people see Rutgers, and that's exactly the kind of publicity this university doesn't need now.
Rutgers head football coach Kyle Flood, who served as an assistant at the school from 2005-2011 before taking over as head coach in 2012, had this to say about Rice:
"The video I saw this morning was difficult to watch. As a husband and as a father, there's nothing that could justify what I saw on that video. This is a sad day for Ray and a sad day for Rutgers."
Rutgers athletic director Julie Hermann released a statement saying: "It was very disturbing to see the video this morning. As we go forward this serves to reinforce the ongoing need to educate and bring awareness to the issue of domestic violence."
RELATED: Rutgers AD Back in Headlines with Headline Comment
The NFL issued Rice's two-game suspension after a separate video showed him dragging his motionless fiancee, Janay Palmer, out of an elevator. Monday the league said it saw the video from inside the elevator for the first time and suspended him indefinitely. After Rice's two-game suspension, NFL commissioner Roger Goodell announced a change to the league's Personal Conduct Policy, resulting in tougher punishments (six-game suspension without pay for a first offense) for assault, battery, domestic violence or sexual assault with physical force.
Palmer and Rice were married in March, one month following the incident in the elevator.
She came to Rice's defense Monday writing in an Instagram post:
"To take something away from the man I love that he has worked his ass off for all his life just to gain ratings is horrific. THIS IS OUR LIFE! What don't you all get. If your intentions were to hurt us, embarrass us, make us feel alone, take all happiness away, you've succeeded on so many levels. Just know we will continue to grow & show the world what real love is! Ravensnation we love you!"