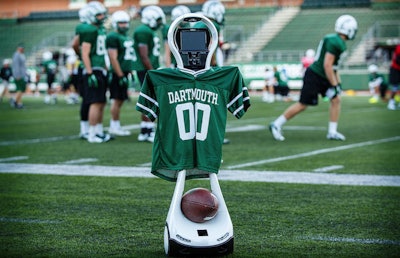 With studies conflicting as to whether or not concussion risk is related to the helmet you wear, and the American Association of Neurological Surgeons recently suggesting that more than one third of all college football players have suffered a concussion, having the ability to quickly recognize a concussion is more important than ever.
Enter VGo, a 4-foot-tall robot with a screen and a camera that allows a brain specialist off location to aid athletic trainers in diagnosing concussions.
"I would say an athletic trainer can probably manage 80 to 90 percent of the cases that he or she sees," Steve Broglio, director of the Neurosport Research Lab at the University of Michigan, told NPR. "But some difficult cases could benefit from having a quick consult with a concussion specialist like a neurologist or neuropsychologist," he said.
Created by a partnership between Dartmouth College and Dartmouth-Hitchcock's Center for Telehealth, VGo is being used by the Darmouth football team this season and has been helping out on the sidelines since Sept. 20.
And although getting a medical diagnosis by someone who's not in the room isn't exactly new, not all health professionals are sold on the effectiveness of VGo.
"There are a lot of things you can't deduce through a computer screen," said Broglio.
Others question whether Dartmouth's robot is more useful than a video call by a smartphone, which is a more cost effective alternative.
But if all goes well, VGo could be advantageous for a number of other sports, including lacrosse or hockey. And at schools that don't have the budget to have certified trainers present at every practice, the robot would be particularly effective.