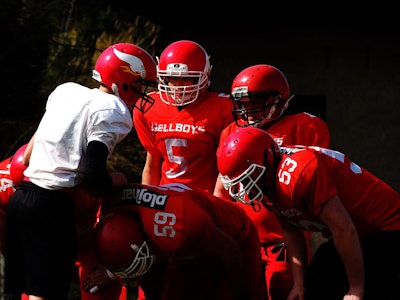 Contrary to suggestions based on past helmet and concussion research, a team of University of Wisconsin researchers has found that, at least for adolescent athletes, neither the age, brand or status of the athlete's football helmet affects concussion risk.
The study, which took place over the 2012 and 2013 football seasons, involved more than 2,000 football players at 34 Wisconsin high schools. According to the results, 206 players sustained 211 sport-related concussions during this time, wearing helmets manufactured by Riddell, Schutt and Xenith.
"It's understandable why some parents who are already anxious about their kids playing high school football may want to buy the newest, most expensive equipment available in the hopes that it will considerably reduce their child's risk of injury," said lead co-investigator Dr. Alison Brooks, assistant professor of UW's Orthopedics and Rehabilitation department.
As shown by the researchers' findings, however, the money put into expensive new helmets may be better off spent elsewhere. In addition to finding that there is no difference in concussion risk across brand, age or condition of a helmet, the researchers also discovered that an athlete's age or competition level is similarly unrelated.
Yet the researchers did find that concussion rates were nearly seven times higher during competitions than practice, and that players who had sustained a concussion within the previous 12 months were nearly twice as likely to sustain another when compared with players who have never had one.
Tim McGuine, UW sports medicine researcher and co-author of the study, believes its findings are just a starting point for more research that needs to be done, saying, "These results highlight the need for medical providers to document a history of SRC [sport-related concussions] in young football players and for more education among parents, coaches and the players about the increased concussion risk in these individuals."
---
Andrew Brandt is an intern for Athletic Business.