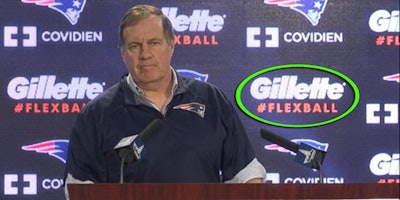 The New England Patriots' deflategate scandal added another chapter on Thursday.
Patriots coach Bill Belichick held a press conference devoted entirely to the controversy, saying he was "shocked" to learn of the allegations against his team. New England is accused of deflating 11 of 12 footballs used in its 45-7 win over the Indianapolis Colts in the AFC Championship Game last Sunday.
"I was shocked to learn of the footballs on Monday," Belichick said. "I had no knowledge until Monday morning. I have no explanation for what happened."
However, Belichick hinted that he may know someone who would have an explanation: his quarterback.
Kickers, quarterbacks and other specialists "do have certain preferences" on how the football feels, Belichick told reporters.

"I can tell you, and they will tell you, that there is never any sympathy whatsoever from me on that subject. Zero," the coach said. "Tom's personal preference in his footballs are something that he can talk about in much better detail."
Brady is scheduled to address the media at 4 p.m. ET.
It could be tempting to dismiss Belichick's comments, as he's usually less than friendly with the media. However, most commentators seemed to believe him.
This may not be popular but did I believe Bill Belichick? Yes.

— Chris Mortensen (@mortreport) January 22, 2015
1 more time people. HC never part of process. EVER. It's QB & equipment staff...as it should be.

— tim hasselbeck (@tthasselbeck) January 22, 2015
Hall of Fame coach John Madden, who now serves as a consultant to NFL commissioner Roger Goodell, also seemed to point the finger at Brady.
"That would have to be driven by the quarterback," Madden said of the deflated footballs. "That's something that wouldn't be driven by a coach or just the equipment guy," he told The Sports Xchange on Wednesday. "Nobody, not even the head coach, would do anything to the football unilaterally. It would have to be the quarterback's idea... He is the effected, he is the only guy."
That brings us to another question: Is deflating the balls common practice? According to an equipment manager in a major college football program who opted to remain anonymous, the answer is yes. Here is an excerpt from his interview conducted by Yahoo! Sports:
What we can say is that his resume includes longtime employment in a power conference, with a program in perennial bowl contention.

Y!: Ball-tampering in general, it's sort of a behind-the-scenes thing in college football, maybe like a major league pitcher scuffing a baseball. Were you guys surprised someone got caught deflating footballs?

A: Not really. Being around football, it's just common. It's just the way it works. Everybody does it. You know you're not supposed to do it, but nobody thinks it's that big of a deal. I don't think anybody looks at it as cheating.
That equipment manager also indicated the inflation level of the ball is usually determined by the quarterback.
"After a while you get to know how the quarterback likes the inflation," he told Yahoo!. "It depends on the quarterback. They may give you free rein to adjust them yourself. Or you get some quarterbacks who may want to test the pressure themselves by gripping the ball and then kind of adjust it with you... I've seen quarterbacks on both extremes. Some don't care at all and will play with a brick. Then you have other quarterbacks who are very particular and it has to be just right."
Adding fuel to the fire was former NFL quarterback Brad Johnson's admission that he paid two ballboys $7,500 to scuff the footballs that were used in Super Bowl XXXVII in San Diego. Johnson, whose Tampa Bay Buccaneers went on to defeat the Oakland Raiders first admitted the secret payment in 2012.
Both Johnson and [Rich] Gannon, the Raiders quarterback and a former teammate with the Minnesota Vikings, were concerned about losing their grip during the biggest game of their lives.

"Rich and I talked about it. The footballs needed to be worked in,'' Johnson told the Tampa Bay Times. "In years past, you heard Troy Aikman, John Elway and Steve Young complain about the balls being slick. Phil Simms, all of them. And basically we agreed on that if the balls could be — if we could work them in, we'd work them in.''
Under NFL rules, no alteration of the footballs is allowed once they are approved by officials before the game. If a person is found breaking league rules and tampering with the footballs, that person could face up to a $25,000 fine and potentially more discipline.
Meanwhile, players around the league are beginning to sound off on the controversy.
Colts tight end Dwayne Allen seems to be handling it well:
@NFLonFOX not a story. They could have played with soap for balls and beat us. Simply the better team. We have to continue to build! #BTM

— Dwayne Allen (@Dallen83) January 21, 2015
His teammate, the team's punter, doesn't sound like he's in game-shape at the moment:
If New England was to be DQ'd.. We'd be their replacements right??... I should probably lay off these strawberry margs

— Pat McAfee (@PatMcAfeeShow) January 21, 2015
As for New England's perspective, cornerback Brandon Browner had this to say:
For my 2cents Blount scored 3 rushing touchdowns. He could've carried a beach ball. Also doesn't hurt we only gave up 7 points #inflatethis

— Brandon Browner (@bbrowner27) January 21, 2015
Patriots tight end Rob Gronkowski blames himself:
Whoops lol pic.twitter.com/uLxN7A5cpq

— Rob Gronkowski (@RobGronkowski) January 20, 2015
Perhaps Ravens wide receiver Torrey Smith summed things up best:
Those footballs don't make the biggest impact on the game folks are going crazy because of the ethics behind it

— Torrey Smith (@TorreySmithWR) January 21, 2015