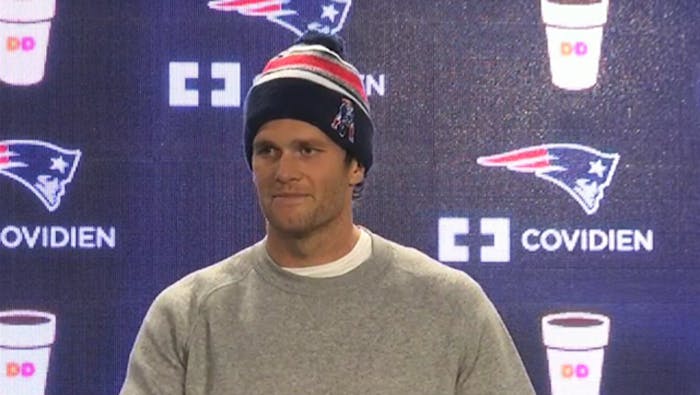 When New England Patriots coach Bill Belichick denied involvement in the deflategate controversy, he suggested quarterback Tom Brady may be able to provide more information. He wasn't.
Brady spoke for nearly a half hour on Thursday afternoon and like Belichick, denied any involvement in deflating the footballs prior to last Sunday's AFC Championship game.
"I didn't alter any football in any way," Brady said. "I feel like I have always played within the rules. I would never break the rules."
Eventually, after about 20 minutes of questions about how he likes his footballs, the press conference became almost comical.

As the USA Today reports:

There were the endless repetition of the word "balls," each time with Brady cracking a half-grin. Brady could get away with it, too, because he's a charming guy that knows how to handle the media. But each time he said "I don't really know what happened to the balls" with his face just on the verge of a smile, it made everyone watching realize something: We're all watching a massive press conference, one that is televised on multiple national TV networks, about someone letting air out of a football.

Brady paused for moments after some questions, letting the reporter's ridiculous words hang themselves in the air. At one point a reporter more or less demanded an apology from Brady, at which he smiled, and asked the reporter to repeat that one more time, making sure the rest of America heard it.

"We're gonna be fine," he said later, smiling. "This isn't ISIS. No one's dying."
Under NFL rules, no alteration of the footballs is allowed once they are approved. If a person is found breaking league rules and tampering with the footballs, that person could face up to a $25,000 fine and potentially more discipline.

When asked during if he thought the whole incident has been blown out of proportion, Brady replied, "Yeah."