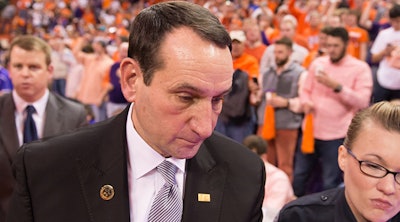 In 35 years as Duke's head basketball coach, Mike Krzyzewski has dismissed exactly one player from his program. That dismissal came on January 29, 2015, when Coach K booted guard Rasheed Sulaimon from the team after Krzyzewski said Sulaimon "repeatedly struggled to meet the necessary obligations."
At the time, media inquiries into details of the dismissal went nowhere. Duke's student newspaper The Chronicle, was told by the team's basketball sports information director that Sulaimon was removed not for one singular incident, but the result of multiple actions detrimental to the program.

However, more information is coming to light regarding Sulaimon's dismissal and how it was handled by Duke officials. According to a report published Monday by The Chronicle, Sulaimon was dismissed more than a year after being accused of sexually assaulting two female students. The Chronicle reports that high-ranking members of Duke's athletic department were aware of these allegations as early as March 2014, and violated federal law by failing to report them.

As the newspaper reports:

Separate allegations of sexual assault by Sulaimon came from two female students in the 2013-14 academic year. Both students voiced allegations publicly, but neither filed a complaint through the Office of Student Conduct or took legal action through the Durham Police Department. The students declined to discuss their allegations with The Chronicle.

The first allegation came in October 2013 when a female student told a group at a student-led diversity retreat that Sulaimon sexually assaulter her. At the following semester's retreat in February 2014, a second female student said she had been sexually assaulted by Sulaimon.

While neither student filed a police report or an official complaint with the university, a source told The Chronicle that athletic department staff members, including Krzyzewski, knew of the allegations in March 2014.

Another excerpt from The Chronicle's report:

The allegations were brought to the attention of a team psychologist in March 2014, the anonymous affiliate (a former affiliate of the Duke basketball program who spoke with The Chronicle) said. That month, the allegations were brought to Krzyzewski and assistant coaches Jon Scheyer and Nate James and associate head coach Jeff Capel.

The anonymous affiliate said other athletic administrators were then made aware of the allegations. Among the administrators identified by the anonymous affiliate were Mike Cragg, deputy director of athletics and operations; Director of Basketball Operations David Bradley; and Kevin White, vice president and director of athletics. The allegations were also brought to the attention of Sue Wasiolek, assistant vice president of student affairs and dean of students, according to the anonymous affiliate.

"Nothing happened after months and months of talking about [the sexual assault allegations]," the anonymous affiliate said. "The University administration knew. Kevin White knew, Mike Cragg knew."

Under Title IX laws, university employees must report knowledge of sexual assault allegations to the Office of Student Conduct, a supervisor or campus police, even if no complaint has been filed.
If the Office of Student Conduct receives information about a possible assault with a student perpetrator, the protocol is to investigate to whatever extent is possible, Sue Wasiolek, assistant vice president of student affairs and dean of students, told The Chronicle.
"Sometimes, it's so little information that there's really nothing to follow up on. When we have the name of an alleged victim, we would certainly want to talk with that individual," Wasiolek said.

The paper also reports that one reason the alleged victims did not pursue allegations is that they were afraid of backlash from Duke's fan base.

The no. 4 Blue Devils are 26-3 this season, including a 9-0 record following Sulaimon's dismissal.
UPDATE:
When asked about the allegations on Monday during the weekly ACC conference call, Krzyzewski declined to comment, in one instance saying, "Yeah, I don't have any comment about that. Thanks for asking, though."

RELATED: Oregon, Coach Sued Over Transfer's Sexual Assault History