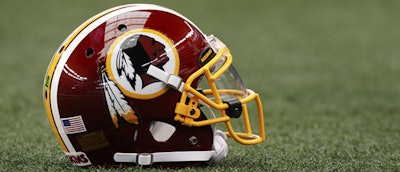 A federal judge in Northern Virginia has ordered the cancellation of the Washington Redskins' federal trademark registrations, marking a huge loss for the team in their legal battle over the mascot's name.
The cancellation will not go into effect until the Redskins have gone through the appeals process in the federal court system. However, even if the team does lose its federal trademark, they can still seek trademark protection under state law.
FROM AB: Washington Redskins Lose Federal Trademarks
The ruling by U.S. District Court Judge Gerald Bruce Lee supported an earlier ruling made by the federal Trademark Trial and Appeal board, which voted that the team's mascot's name is offensive to Native Americans.
Therefore, the name is ineligible under the Lanham Act for status in the federal trademark registry. The Lanham Act does not give protection for names that "may disparage" or bring people into contempt or disrepute.
FROM AB: D.C. Stadium for Redskins May Hinge on Name Change
According to a Washington Redskins spokesperson, the team is reviewing the decision and will consider its legal options going forward.