In recent years, the National Collegiate Athletic Association has been using social media during March Madness to gauge the excitement of basketball fans nationwide.
This year, as fans from Wisconsin, Duke, Michigan State and Kentucky descended on Indianapolis and Lucas Oil Stadium for the Final Four, the NCAA used location-based software to boost its interactions with fans, media and sponsors. No longer was the NCAA's focus limited to keywords and hashtags. Using the software, the organization was able to track posts on Facebook, Twitter and Instagram that came from Lucas Oil Stadium, the parking lots around the stadium, the roads leading into the stadium and the city of Indianapolis.
The NCAA used the location-based social media monitoring software for the duration of the men's basketball tournament. During that time, it recorded 350 million impressions across Twitter and Facebook — nearly 10 million during the Final Four alone.
"In the end, the results were fantastic," Chris Dion, the NCAA assistant director of championships and alliances, digital and social media, said in a recent webinar conducted by Geofeedia, the Chicago-based firm that provided the software. "Geofeedia was instrumental for engaging with social media users at Indianapolis celebrations and helped us separate nationwide activity from that of local fans and visitors."
But engaging fans is just one benefit of the technology, which has been deployed at the Super Bowl, Wimbledon and the Olympics, as well as smaller events and venues. A less visible — but no less important — function of location-based software is keeping onsite fans safe and events secure.

AHEAD OF TROUBLE
One example of social media monitoring at a sports venue that prevented a potentially serious situation from escalating occurred in the Minnesota Vikings' final home game in the Metrodome in 2013. By monitoring social media, officials with Whelan Security were able to anticipate a potential postgame field rush and increased the number of security guards that day to thwart fans' efforts. "It allowed us to have an idea of what was going on in the mindset of people in the building and counteract it," Jeff Spoerndle, director of special services for Whelan, told the Associated Press last year.
The tool can protect the business interests of fans and ticket providers alike. On several occasions during the week of the Final Four, fans and media posted photos of their tickets or media credentials to the games. If the NCAA saw those posts, it responded to the posters and encouraged them to take them down for fear that some people might produce fraudulent tickets and credentials based on those photos. Many people were thankful for the reminder, Dion said.
"Our social media team is by no means responsible for fan safety and security," Dion said in the webinar, "but we did want to make sure that this was another set of eyes and ears around the event and around the city that could watch what was going on."
Phil Harris, CEO and co-founder of Geofeedia, recalls seeing social media posts during Super Bowl XLVII in New Orleans in February 2013. In the third quarter of the game, the lights went out at the Mercedes-Benz Superdome. Harris, as well as those monitoring the software onsite, saw posts on social media about the outage before it was broadcast on TV.

COMPETITIVE FIELD
Geofeedia, founded in 2011, has grown to attract nearly 500 customers. But it is not the only location-based software company servicing sports and athletic organizations. Other companies include Austin, Texas-based Snaptrends and London, Ont.-based Media Sonar.
Put to practical use, the software can identify triggers relating to a word or words involving a fan's experience at an event. Those words could be "fight" or "overflowing toilet," for example, and trigger an alert that prompts members of a marketing or security team to look at the social media feed and take action. "We hope to identify opportunities for marketing and engagement and enhancement of customer service," Harris says, "but then also to prevent events from escalating and becoming more severe, whether it's a fight or traffic congestion, before it actually turns into a major event."
Snaptrends' social media intelligence system has been used by athletic organizations in the areas of threats and general safety, event security and crisis management, among others. Snaptrends, founded in 2012, says its software helps "protect executives, coaches, employees, players and fans anywhere in the world." On football gamedays, the Snaptrends system is used not only to monitor stadiums, but the surrounding tailgate areas, as well, and can identify and respond to problems, investigate the cause and prevent future situations from arising.
Media Sonar, which started in 2011 but began releasing its software the following year, has been used for a wide variety of events ranging from standard gameday situations to large-scale events including the Super Bowl, the Pro Bowl, the Final Four and marathons, says Mark Hall, the company's director of product marketing. While not giving a specific number of customers, Hall says teams and facilities across a wide range of sports — from professional through the amateur ranks — use Media Sonar software.
Media Sonar is focused solely on public safety, Hall says, and the company has customers outside the sports world, as well. In July, the board of commissioners for Franklin County, Ohio, approved a contract with Media Sonar to help the local sheriff's office monitor and track potential threats to that region.
"Our solution has literally saved lives and helped to contain potentially volatile situations where weapons and violence were a real threat to public safety," Hall says. "As an organization, we are inspired by public safety, and our mission is integrating safety and technology with an eye toward helping sports teams, facilities and communities as a whole to ensure a safe environment for fans and athletes alike."

---
Location-based Software Keeps Fans Engaged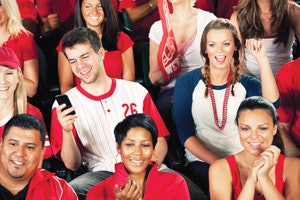 Among the goals of the National Collegiate Athletic Association at this year's Final Four in Indianapolis was to improve the fans' overall experience through the use of location-based software. Chris Dion, the NCAA assistant director of championships and alliances, digital and social media, says almost 60 percent of the NCAA's messaging was direct fan engagement. "That's what I call engagement," Dion says. "I'd like to see that number go up next year, but I think that's a really strong number."
Geofeedia, the Chicago-based software firm the NCAA used at the Final Four, monitors social media outlets Facebook, Twitter, Instagram, YouTube, Flickr and Picasa. In addition to the Final Four, Geofeedia's software has been used at other sporting events to alert fans to attractions outside the venue.
"This is a new technology," says Geofeedia CEO Phil Harris, who co-founded the company in 2011. "This wasn't available five years ago because smartphones were just emerging. The applications didn't have GPS capabilities embedded in them. Now, the trend is, 'Not only do I want to share, I want to let people know I am here. I am at the Super Bowl.' "
Fans at the most famous tennis tournament in the world also have become more connected through social media. The All England Lawn Tennis & Croquet Club debuted social media monitoring at Wimbledon last year. The club set up the Wimbledon Social Command Centre to aggregate social media posts on Facebook, Google+ and Twitter into one database to deliver information to tennis fans.
"The Wimbledon Social Command Centre will help us follow the evolving topics on sites like Twitter to see what is being discussed, how the volume is changing, and we can tune and tailor that to the Wimbledon.com website," Alex Willis, head of digital and content at the All England Lawn Tennis & Croquet Club, told technology website V3.co.uk before last year's tournament. "So if the social media coverage is actually talking about a match on court 12, rather than Centre Court, it means we can understand that and give people the content they want."
---
This article originally appeared in the Fall 2015 issue of Gameday Security with the title "Real-Time Coverage"