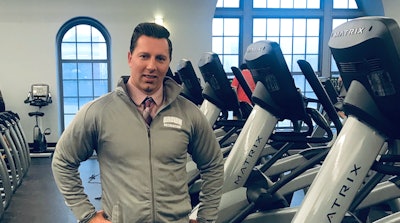 As manager of Nelson Fitness Center at Brown University, Jason Bishoff oversees programming and rentals, as well as an assortment of full-time, part-time, and student staff. He also handles the department's budget and revenue stream, while implementing new technology and equipment in the department. After taking over three years ago, Jason was tasked with streamlining operations and ensuring visitors from the campus and local community are treated with an Ivy League experience every time they walk through the door. Athletic Business spoke with Bishoff about the challenges and rewards of equipping a high-end facility.
What are your responsibilities at Brown University?
My official title is the Nelson Fitness Center Manager. I oversee the main recreation center at Brown, and I manage the entire recreation department. That includes a few buildings here on campus, as well a couple of satellite facilities.


Can you tell me a little about the facilities you manage?
The entire building is around 95,000 square feet and covers about seven-and-a-half acres, with a total occupancy of about 1,800. On the first floor, we have three fitness dance studios. Two are for general use, and our other one is a dedicated spin studio. Our fitness loft, which is up the stairs from the main lobby, is about 10,000 square feet. In there, I think we have about 80 cardio machines and then another 26,000 pounds of free weights. Attached to that building is a pool and then our strength and conditioning area, which accommodates athletes from 37 different varsity sports. We're a very busy building, as we're open to students from Brown, as well as our neighboring university, the Rhode Island School of Design. On top of that, we're open to the community.


What would say is the most challenging part of your job?
Definitely operations. The fitness and wellness coordinator and myself have spent the last three years kind of building our operation from the ground up, which has included repairing customer service and a number of other things. One of the big hurdles we've had is upstairs in the fitness loft, they had a variety of fitness equipment from different vendors and it was kind of a nightmare. One of my main goals was to just get uniformity throughout the building. I mean, I remember when we started, things would break down and we were spending hours trying to track down where that stuff came from.


What's important to you when you're looking for an equipment provider?
A direct representative. Working directly with a company. Vendors are nice, but we like to cut out the middle man, and there are only a few players in the game that can do that. Matrix was one of them. Working directly with them and having their service guys here, who understand the equipment, that's invaluable. Of course, this is Brown University, and there might be the perception that funds are unlimited. But, of course, that's not the case. We operate on a strict budget just like everyone else. So, our provider had to be priced competitively. Warranty was very important to us, and Matrix offered a great warranty. Having so many issues with equipment breaking down in the past, our repair costs were astronomical and that's how I was able to sell this to our administration. I just said, 'Look how much we're spending repairing this stuff. If we can buy new stuff under warranty, we're just in a much better situation.'


What about dealing with Matrix makes your job easier?
Their entire staff, their support staff, are all great to work with. From the sales rep all the way to those people that come in and work on the stuff, and everyone between. Like I said, their equipment was priced great, and it's aesthetically pleasing. It fits really well in our space. The treadmills and ellipticals and even their bikes — they're not bulky, they're very streamlined, and they just look great. And the functionality is so impressive. I personally use them, and they're some of the coolest things I've ever seen. The console can be customized, so we have picture of our own building and our classes right on the screen, as well as a calendar, so we're able to promote events. Even using it myself, I love being able to get on there, you have all the apps right there, just like on your smartphone — Facebook, YouTube, Hulu, Netflix. In the end, Matrix was just a great option for us.
---
For more information on Matrix Fitness' equipment solutions, visit matrixfitness.com.