Welcome to the May 2019 issue of Athletic Business. Below is a list of links to each article published in this issue for you to peruse at your leisure.
We'll also be including the stories below in AB Today, our daily email newsletter throughout the month of May. If you're interested in receiving our newsletter, sign up here.
You can also check out the digital edition of the May issue here.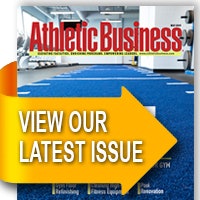 In this issue:
Letter from the Editor: In With the New
Features:
Four Considerations When Specifying Indoor Training Turf
NYC's 'Cool Pools' Project Tackles 11 Pools in Two Years
Three Factors to a Successful Gym Floor Refinishing Project
Turf Central to Revitalized Stadium, Neighborhood
How to Clean Your High-End Fitness Equipment
Voices:
Legal Action: Courts Rarely Interfere in State Association Decisions
The Owners Club: Rob Turns to Bankruptcy in Hopes of Saving His Club
Safety & Security: Designing Facilities for Safety and Security
NIRSA Rec Center: College Recreation Works to Launch Esports Programs
Plus:
Starting Lines: Transit-based Soccer Facilities Bring Programming, Possibilities
Forward Progress: New Projects: Xtream Arena | Regency Mall Aquatics Center | Rector Fieldhouse Renovation
One-on-One: MAC Commissioner Discusses Student-Athlete Mental Health
New & Improved: New Product Roundup: Fitness Equipment | Aquatics | Graphics
Product Spotlight:Gymnasium Products and Indoor Surfaces
Happening Now at AB Show: Risk Management for Your Facility
Purchasing Guide: Basketball Systems
Design Details: Fiserv Forum Features Bird-Friendly Facade
Digital Extras: