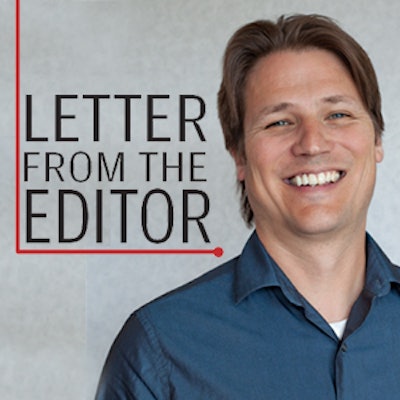 As we put this issue together and made final preparations for AB Show 2018 in New Orleans, we took time to take stock of the good people in the athletics, fitness and recreation industries we've gotten to know, or at least know about.
Most of us spend the majority of our lives at work. Those who spend that time doing something they love are lucky. Those who spend that time doing something that has a positive impact on others are assets to their communities, and their work has meaning that goes beyond mere personal satisfaction. Starting on page 56 of this issue we take a look at a group of industry difference-makers who fall into the latter category.
Many of the people you'll read about are pursuing their passion. Others have committed themselves to a cause due to unforeseen circumstances. For instance, Augie and Lynne Nieto have made it their mission to find a cure for ALS, an illness that unexpectedly and irrevocably changed their lives. Carla Williams worked hard in a profession she loved, eventually paving the way to more opportunity for African-American women by becoming the first to assume the role of athletic director at a Power Five institution. Rachel Moyer didn't expect to lose her 15-year-old son Greg to sudden cardiac arrest during a high school basketball game, but since that fateful day in December 2000, she's tirelessly worked to get defibrillators in every school in the nation.
Aside from those featured in our round-up of 2018 difference-makers, you'll find equally impressive individuals at the center of this issue's other features. From the designers who managed to build a magnificent indoor practice facility along the shores of Lake Michigan at Northwestern University (page 50) to regular contributor Rob Bishop's advice on how club owners can help in the fight against obesity (page 26), this issue is loaded with motivational and informative voices.
The people you'll find within these pages are a testament to the type of character that the athletics, fitness and recreation industries attract and produce. They're also a representative cross-section of the kinds of people you'll find this year at AB Show. From the strike of AB Show 2017 in Orlando to this month's opening of AB Show 2018 at New Orleans' Ernest N. Morial Convention Center, the AB staff has been working hard to ensure a showcase worthy of the professionals who are joining us in the Big Easy. Enjoy the issue and enjoy the show!
---
This article originally appeared in the November | December 2018 issue of Athletic Business with the title "Good People." Athletic Business is a free magazine for professionals in the athletic, fitness and recreation industry. Click here to subscribe.