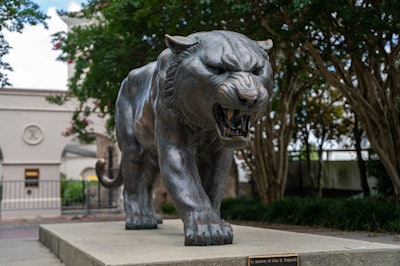 Louisiana State University and sixth-year head football coach Ed Orgeron have agreed to part ways after the 2021 season, just two seasons removed from the Tigers' 2019 national championship.
Orgeron will coach the team for the rest of the year after reaching a separation agreement with LSU Sunday, a day removed from the Tigers' upset of Florida.
As reported by The Daily Advertiser of Lafayette, LSU athletic director Scott Woodward expressed his desire to make a change following a loss at Kentucky on Oct. 9, the second in as many weeks to an SEC opponent.
"I knew after the Kentucky game we were heading down a road that wasn't positive for LSU and there was going to be a change made and I just felt that," said Orgeron, who amassed a 49-17 record at the school. In 2019, his Tigers became the first Southeaster Conference team in history to go 15-0, but have gone just 9-8 since then. Their 4-3 season continues Saturday with a game at No. 12 Ole Miss.
Per the separation agreement, LSU will pay Orgeron's $16.9 million buyout over 18 installments through December 2025, The Daily Advertiser reported. Orgeron is set to make $9 million in total compensation in 2021, second only to Alabama's Nick Saban. He agreed to a voluntary 5 percent pay cut for the 2021 season as LSU faced a projected $80 million shortfall due to COVID-19.
"Our last two seasons have simply not met that standard," said LSU athletic director Scott Woodward, who signed Orgeron to a six-year, $42 million extension in Jan. 2020, including a $6 million base salary and a $5 million life insurance policy split over the first two years of the deal.. "When we evaluated our on-field results and the future of our program with [LSU] President [Williams] Tate, we determined that it is time for us to move in a new direction.
"That was LSU's decision but it is one that Coach O understands."
"I understand the expectations of LSU and I invite them myself and we did not meet them the past two years," Orgeron said Sunday night. "I'm honored that I got to be the head coach at LSU. This administration has treated me with class and dignity the whole time I've been here.
"They've given me everything that we needed to have success."
Orgeron said he does not plan to coach in 2022.
"I want to take a little time off," he said. "I've coached for 37 yards. I think I'm going to have enough money to buy me a hamburger every once and a while, maybe a double-meat cheeseburger from Sonic."
The Orgeron ouster was one more piece of evidence that led Sports Illustrated's Pat Forde to question whether the SEC has gone too far. "While Orgeron absolutely caught lightning in a coordinator/quarterback bottle with Joe Brady and Joe Burrow in 2019 and wasn't likely to ever repeat that, railroading a native son of Louisiana out of his dream job this quickly shows that loyalty is disposable," Forde wrote. "LSU only cares about winning, and only cares about winning. You follow 15–0 with 9–8 over the next 17 games? You're gone."