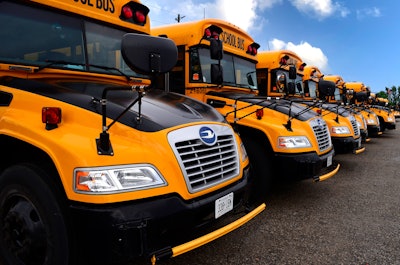 The Los Angeles Unified School District is experiencing a shortage of bus drivers due to a vaccine mandate, and the problem is now impacting sports in the district.
Due to a shortage of vaccinated drivers, the district sent a letter to athletic directors informing them that all athletic competition must begin at 4 p.m. or earlier.
According to the Los Angeles Times, the first sports affected are football games this week and playoff volleyball matches next week. Basketball games next month will follow the same rules.
District sports director Trent Cornelius told the Times that the bus driver shortage isn't entirely due to the vaccine mandate, as the problem existed for weeks.
The district is trying to accommodate schools that still want to play night games and all will have the option to find private buses or use private transportation. Schools can also move games to Saturday.
Andy Moran, football coach at Eagle Rock and president of the coaches' association, said, "The district didn't think this was going to be as big a problem as it is."