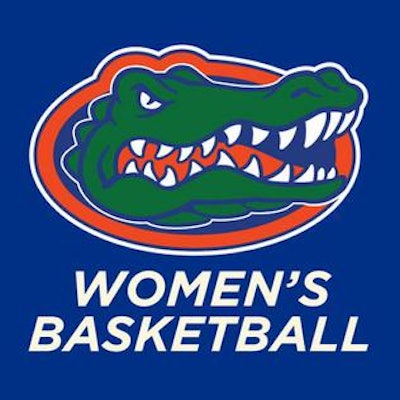 The mother of former University of Florida women's basketball player Corey Staples sent five emails to athletic director Scott Stricklin and executive associate athletics director Lynda Tealer between January and March 2019 about the toxic culture within coach Cam Newbauer's program, calling into question Stricklin's claim that such reports had stopped once measures to rectify concerns were put in place.
In late September, Zachery Huber of The Independent Florida Alligator detailed player accounts of what it was like to play under Newbauer, who was the Gators' coach from 2017 to 2021 and allegedly prone to verbal abuse, making racist comments and throwing basketballs at players as punishment for poor effort.
Corey Staples played for Florida from 2017 through 2019.
Stricklin said in a statement that he received reports about Newbauer's behavior during his first two seasons, but that the reports stopped after UF responded by "putting more structure" around the coach.
The reports did not come to a halt, however, according to new reporting by Huber.
According to Huber, Newbauer didn't responded to seven requests for comment through phone calls, texts and voicemails. University Athletic Association spokesperson Steve McClain forwarded statements Stricklin made Sept. 27 and 28.
"I no longer can watch and sit silent because if something happens to ANY of these girls the blood will be on my hands and that makes me no better than the other adults that watch out of fear," B.B. Staples wrote in the first email, sent Jan. 1, 2019, according to Huber.
In one instance, Newbauer scolded her daughter for not standing and cheering on the team. Corey had torn her left ACL on Oct. 3, 2017, the first day of practice. Newbauer threatened to kick her off the team.
"Excuse me!!! What? She was in pain," B.B. wrote. "She was depressed, she lost 15 pounds and she wasn't cheering enough for him?"
Corey qualified for a medical redshirt year, and Florida listed her on the official roster as a redshirt junior in the 2018-19 season. But Newbauer told Corey he considered her a senior and it would be her last season with the program.
Corey emailed her eligibility coordinator to appeal for another year. Newbauer found out about the email and humiliated her during a practice.
"HE IS THE CULTURE and it is VERY TOXIC," B.B. wrote. "YOU have given him free reign to run our girls and their confidence into the ground."
She urged Stricklin to take action, reminding him that the players were also people's daughters, Huber reported.
"Now the blood is no longer on my hands if something happens to one of these girls and nothing is done about it," she wrote. "Now it is on yours."
Stricklin's response to the elder Staples looked similar to the one he sent Sydney Morang's parents when they shared concerns about Newbauer in 2018. "I wanted to let you know that I received your note and appreciate you reaching out," he wrote, as reported by Huber. "I understand that this was difficult for you to do. Please know that I take your concerns seriously and will assess where we can improve for the benefit of our student-athletes."
B.B. wrote another email to Stricklin and Tealer on Jan. 25, 2019, after she saw a Facebook comment claiming parents and two players on the 2017-2018 team sent letters to Stricklin detailing Newbauer's abuse.
When Stricklin didn't respond, B.B. followed up Feb. 4, 2019, writing, "How many young woman are you going to keep sending to him? These parents are trusting OUR school and administrators to protect their children away from home."
Stricklin returned her email two days later, Huber reported.
"I am writing to confirm that I have received and considered your emails," he wrote. "The experience of all Gator student athletes is important to me and everyone on our staff. This is reinforced by the myriad options students have to personally talk about their experiences or challenges with folks inside and outside of their particular sport...The goal is to be present and available for student athletes of all teams, women's basketball included."
B.B. wrote back the same day and told Stricklin he missed the point: Players are afraid of seeking help because of fear of retaliation. She added that some had gone to their advisers, counselors and trainers. In each case, the reports got back to Newbauer, and he humiliated them for it, according to Huber's reporting.
She sent a fourth email Feb. 12, 2019, to thank Stricklin and Tealer after he assigned Jay Jacobs, the executive associate athletics director for external affairs, to watch over Newbauer, but Corey said Jacobs was ineffectual in that role. "This man didn't care about us, either," the former player said, as reported by Huber. "There's nothing that's going to be changed here. They don't care about us."
Corey Staples remembered seeing a player in a pregame meeting with Jacobs and Newbauer exit that meeting crying. Newbauer and Jacobs left the room seconds later, giggling and laughing. "He was there to be his buddy," Staples said. "He was just eating our food and, you know, traveling with us and having a good time."
In an email statement sent by McClain, Stricklin said if he had known about the depth of Newbauer's behavior, he wouldn't have extended the coach's contract in June. "I thought things were moving in a certain direction," Stricklin said. "Obviously, we weren't. We didn't pick up signs and clues and we've got to figure out going forward how to get better at that and make sure we know what's going on."
Newbauer resigned July 16, citing personal reasons.