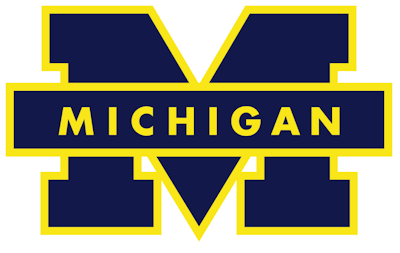 A day removed from the biggest victory of his University of Michigan coaching career, Jim Harbaugh and his wife decided to take all the bonus money he stands to earn this football season and donate it back to athletic department staff whose pay was cut during the ongoing COVID-19 pandemic.
Michigan, with a victory at home over rival Ohio State on Saturday, won the Big Ten Conference's East Division title outright. For that, Harbaugh stands to earn $500,000 beyond his salary. Other incentives could push his bonus total to nearly $3.5 million, according to The Detroit News.
"Sarah and I were talking about it last night," Harbaugh said to host Jon Jansen on Monday night's edition of the "Inside Michigan Football" radio show, "and we decided that any bonus money that I am to receive through this season will be redirected to reimburse UM athletic department employees who have stayed while taking a voluntary or mandatory pay reduction during the last 18 months during the pandemic."
Harbaugh, in his seventh season coaching his alma mater, signed a contract extension earlier this year that cut his salary in half and was incentive-laden. As reported by the News, he earned $4 million for his base salary and has a maximum incentives bonus of $3.475 million this year. If Michigan beats Iowa on Saturday for the Big Ten title, Harbaugh will earn $1 million.
He led the Wolverines (11-1) to a 42-27 win over Ohio State at Michigan Stadium last Saturday, snapping an eight-game losing streak against the Buckeyes. Michigan will make its first appearance in the 11-year-old Big Ten championship game Saturday against Iowa at Lucas Oil Stadium in Indianapolis.
"Whether it's folks that work here in football or at the ticket department or baseball coaches, (swim coach) Mike Bottom, there's so many people that my wife has gotten very close to, kids have, really just our family contribution to those that have had some financial strain through the last 18 months," Harbaugh said.
According to the News, Michigan athletic director Warde Manuel laid off 21 people in the athletic department last year because of budget losses owing to the COVID-19 pandemic and had 15 unfilled positions. The department also had comprehensive salary freezes and reductions ranging between 5 and 10 percent for most employees. Last June, during a presentation to the University Regents, Manuel projected a deficit of $62.9 million for the 2021 fiscal year but has remained adamant that no sports will be cut.
Reaction to Harbaugh's decision was mixed on social media, as reported by Sean Keeley of The Comeback, with some applauding his generosity and others questioning a system that heaps bonus money on certain individuals while asking others to tighten their belts. Keeley himself lands in the former camp.
"All in all, it's a great move by Harbaugh at a time when his reputation is reaching new heights," he writes. "If he's able to pull off a couple more victories this season, he might move into a whole new stratosphere in Michigan lore, on and off the field."