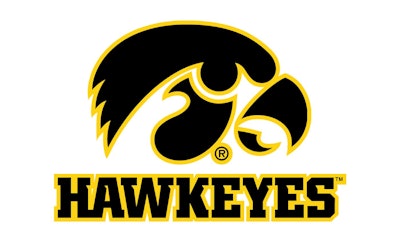 The mother of University of Iowa football player Deuce Hogan revealed in a social media post that the third-string quarterback is leaving the program not over a lack of playing time, but because head coach Kirk Ferentz disrespected him during a press conference in November.
As reported by Sports Illustrated, Hogan entered the transfer portal on Nov. 30 before announcing his decision Sunday.
He redshirted in 2020 without taking a snap. He completed his only pass for a two-yard gain during a 51-14 blowout of Maryland on Oct. 1.
Hogan's farewell message to teammates and fans made no mention of Ferentz, but his mom's Facebook post — "a letter to my son" — from last Wednesday may fill in some blanks.
As a footnote to a long list of ways Deuce had made his mother proud, including "watching you weather this storm," Amy Jerilyn Hogan wrote, "Deuce did not leave Iowa because of playing time... The head coach slandered him in a press conference... Very out of character for the coach... he was trying to be funny... unfortunately, there was no backtracking on his mistake. He has since apologized to Deuce, the team, and the media. But Deuce cannot play for him... and everyone in the facility understands why."
According to SI, Amy Hogan was referring to a November press conference during which Ferentz addressed how he would deal with both his starting quarterback and backup contracting the flu the week the Hawkeyes traveled to Nebraska for a Friday night game, a 28-21 victory. He was asked who he would have started if neither Spencer Petras nor Alex Padilla had been available (both played in the game).
"If it was Deuce, with all due respect to Deuce, I might've stayed in Iowa City," Ferentz said after the game, per John Steppe ofThe Gazette in Cedar Rapids.
Petras and Padilla both played in Iowa's next game, a 42-3 loss to Michigan in the Big Ten Conference championship game Saturday.
"I know how hard this has been," Amy Hogan wrote, in part, in her posted letter. "I know you were promised opportunities that never manifested. I know you watched patiently (albeit painful) as all the reps were ran without you. I've seen the film. I've heard those who were there every day say that you were the most talented. I've read all the texts. I've listened to the testimonials of the teammates that were so perplexed as to why you weren't starting. I heard the voicemails. I know the apology was sincere. Too late, but sincere."
Hogan was a four-star recruit out of Grapevine, Texas, with offers from Georgia and Tennessee. His transfer announcement concluded with the statement that his current recruitment is 100 percent open. Ferentz confirmed Tuesday that Hogan had entered the transfer portal.