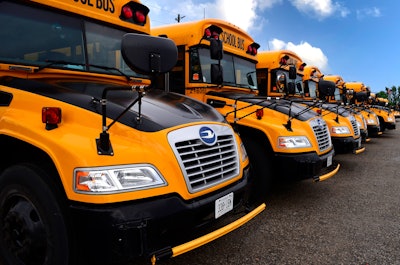 Due to a shortage of available bus drivers, administrators within the Horicon (Wis.) School District have added that particular road skill to their respective resumes.
As reported by the Daily Citizen in nearby Beaver Dam, Horicon superintendent Rich Appel, Horicon Middle School principal and athletic director Mike LeBouton and technology director Jeff Williams have all secured bus driver licenses and are subbing as school bus drivers on a regular basis.
"It started out of frustration, because our student-athletes were leaving at 1:30 in the afternoon for ball games in the fall," Appel said. "We didn't have enough bus drivers to take them to events."
Williams said he went to Appel's office at one point to talk about technology, and Appel asked him about the commercial driver licenses he held.
"I had about every certification in the state, but I said that I thought it was a separate certification to drive bus," Williams said.
Appel himself had driven a bus while in college, and had driven a charter bus, as well. He asked Johnson Bus, the district's bus company, what it would take for the three to get bus driving licenses. The answer was passage of written and practical driving tests.
According to the Wisconsin Department of Motor Vehicles the list of requirements for school bus driver candidates include passing background checks and not having felony convictions that would disqualify someone from driving a school bus.
Cindy Lucht, the director of the bus terminal for Johnson Bus, told the Daily Citizen that there are general knowledge tests as well and sign tests. The training includes in house testers and trainers and takes three to four weeks to complete. "It is quite extensive," she said. "After you get your license, there is a ride along with the driver who knows the route."
Appel said they drive routes before and after school, but the skill will really pay off in the spring for sports teams and field trips. He added that the administrators are lucky that their positions with the district give them some freedom to get away from the school and drive the buses.
Williams said students work hard in school ,and the athletics and other extracurricular activities are their passions. "They all put the work in," he said, "and I will do everything thing I can to make sure they get where they need to go."