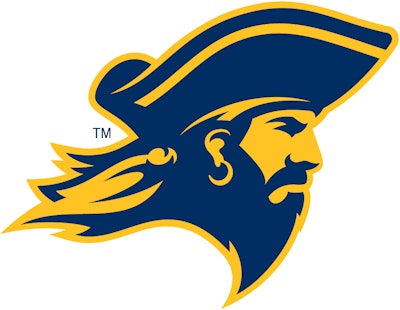 Two former East Tennessee State University softball players leveled charges of emotional abuse Monday against Bucs head coach Belinda Hendrix and her assistant and husband, Jimmy Hendrix.
As reported by the Johnson City Press, Saxon Radcliffe, who was a freshman catcher on the team last year, said on Twitter that she and her teammates were victims of verbal abuse and that when she went to the administration for help, she received no satisfaction. In addition, she contends that the coaches retaliated against her by cutting her from the team.
"The athletic department did not uphold the confidentiality that they state they value, and word got back to the coaches," she said in the tweet. "I took so much pride in representing ETSU Softball. I was simply targeted by Jimmy and Belinda Hendrix after going to the athletic department about complaints I had regarding the way the coaches treated my teammates and I."
Radcliffe, from Glen Allen, Va., hit .333 in 12 games as a freshman. She said she kept a journal chronicling what she considered the abusive language used toward her and her teammates.
"When you hear those words being screamed at you every single day, you start to believe it," she wrote. "Words are powerful and theirs hurt. My mental state was at an all-time low."
She said her classwork suffered as she lost motivation to go to school and do homework, the Press reported.
"Everyone on the team has suffered from the same mental, emotional and physical strain that I have under these coaches," she wrote. "But you won't see anyone currently on the roster repost, like or comment on this because if they do, they are in jeopardy of being in the same position I am. They live in fear of losing the sport they have worked their entire lives for. … The softball program and the athletic department has failed its athletes in more ways than one."
Efforts by the Press to reach the Hendrixes through ETSU were unsuccessful.
ETSU released a statement from athletic director Scott Carter on its athletic department's Twitter page Monday night.
"The well-being of our student-athletes is something we take very seriously at ETSU," the statement reads. "While we strive for absolute excellence on the field of play, athletic performance should always be considered secondary to our student-athletes' emotional, mental and physical health as well as their academic and career development. As such, we take concerns such as those expressed by former members of our softball team very seriously. Our office is following ETSU's established protocols and procedures to review these students' and parents' complaints to ensure a safe and healthy environment for the softball team and all ETSU student-athletes. Additionally, we recognize the need to expand upon the mental health and counseling resources provided to our student athletes."
Alana Collins, another former ETSU player from Greeneville, made similar accusations on Twitter. "It is heartbreaking to work so hard for your dream and then experience this," she tweeted. "This is 100% true. I have refused to take the field for ETSU softball as long as these coaches are there."
Belinda Hendrix was hired in July to replace Brad Irwin who was let go after 11 seasons, according to the Press.