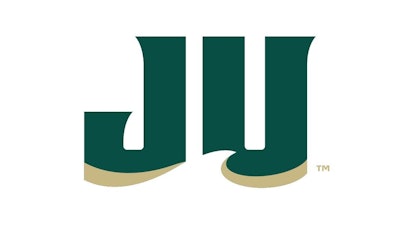 Ron Grigg is stepping down as Jacksonville (Fla.) University director of cross country and track and field amid allegations of bullying by women runners at the school.
Jacksonville athletic director Alex Ricker-Gilbert issued a statement in which he said Grigg "is no longer an employee of Jacksonville University. We believe, and Coach Grigg agrees, that this is the best path forward for our current and future student-athletes and their success."
According to a page now removed from the Jacksonville athletics website, the school had considered Grigg "one of the most successful and longest-tenured coaches in the country."
As reported by The Florida Times-Union, Grigg had been at JU since 1998 and led the Dolphins to 23 ASUN track and field titles and one cross country championship. He is a 12-time ASUN coach of the year and has coached more than 130 individual conference champions and more than 300 academic all-conference athletes.
JU became the first ASUN team to win the women's cross country, indoor and outdoor track championships in the same season in 2009-10.
Jordan Garman, a former JU cross country athlete, is now listed as head coach of both the men's and women's teams. No head coach is currently listed for women's track and field. Jacksonville doesn't sponsor men's track.
As reported by Minneapolis Fox affiliate KMSP, Julia Pernsteiner, a Rosemount (Minn.) High School graduate, was on the track team at Jacksonville University for one season, after transferring to the Florida college her junior year.
Last fall, Pernsteiner came forward with allegations of emotional abuse against Grigg. After an internal investigation by the university yielded no results, Pernsteiner turned to Jacksonville independent journalist Samantha Mathers.
The runner had approached law enforcement with her complaints and body cam footage depicts her describing the abuse she endured, which included, "Everyone's done with you. You're the slowest [bleeping] runner on the planet. You're an awful person."
Griggs was also accused of fat-shaming athletes.
"I had a healthy amount of skepticism at first," admitted Mathers. "It was when I finally got that first current runner to sit down and give me some clear details that I realized this was so much bigger than I first thought."
Pernsteiner was found in her dorm room two weeks after contacting Mathers. She died by suicide.
Mathers continued to pursue the story. For the past week, she has been posting interviews with current and former student-athletes who appear to corroborate Pernsteiner's story. As those stories gained traction online, the university announced Grigg's resignation.
Ricker-Gilbert's statement, which was posted Saturday, opens by saying, "Over the past few days there has been some very concerning information shared online regarding the personal experiences of some of our student-athletes while at Jacksonville University.
"The posts and comments have been difficult to read, and they have deeply impacted me and our Dolphin family."
The statement goes on to outline measures being taken by the university to address the situation that led to Grigg's departure.
"First and foremost, we want our community to understand that the claims made by the student in the fall of 2021 were taken seriously," the statement read. "Within 48 hours of receiving the student's allegations, the University began an investigation, which included meeting with current and former teammates, University employees, administrators, advisors, and coaches. Less than two weeks into the course of our investigation, the student tragically passed away. We then engaged an outside, independent investigator to ensure an unbiased, thorough review.
"Separately, Jacksonville University Athletics has tasked an outside firm to immediately review the new information and allegations that have been shared in recent days about the experiences of other student athletes. We take these reports very seriously, and it is our responsibility to ensure that this information receives the time and attention that it deserves.
"In addition, this outside firm will perform an audit of our athletic department's policies, reporting mechanisms, and responsive actions in an effort to strengthen and improve them. This audit will include interviews of current and former students to encourage candid feedback and will assist us with identifying and developing outstanding resources that address areas where we as a University can improve. Our goal is to create a safe and supportive environment for our student athletes and coaches to share their concerns. This audit has already commenced.
"All of our coaches and staff also will complete additional mandatory training involving mental health and other issues, including, but not limited to, body image, nutrition, bullying, and building a healthy, supportive team culture."