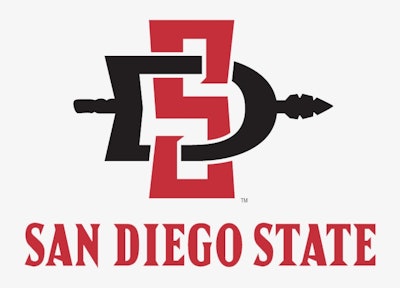 The Buffalo Bills drew national headlines over the weekend after cutting rookie punter Matt Araiza once allegations surfaced that he and others had raped a 17-year-old girl during a house party in October 2021, but what about San Diego State, where the alleged crime took place and where two of the accused still had football eligibility?
According to The San Diego Union-Tribune, redshirt freshman offensive lineman Zavier Leonard was active until Thursday, when his name was among three defendants with SDSU football ties in a civil lawsuit filed by the alleged victim. By Saturday, his name was removed from the Aztecs roster. The third defendant, Nowlin Ewaliko, a redshirt freshman defensive lineman from Seattle. was included on SDSU's 2022 roster dated July 18, but was no longer with the program when preseason camp opened Aug. 5.
When asked about the roster move involving Leonard, SDSU's sports media relations department released a one-sentence statement: "Regarding Zavier Leonard: He is no longer on the roster or participating in team activities," the Union-Tribune reported.
Leonard, from Arlington, Texas, came out of spring practice competing with sophomore Jonathan Harrison for the starting position at left tackle. He was at practice as recently as Wednesday but was not at Thursday's practice. A school official said that day that Leonard was not participating in team activities, although he was still on the roster until Saturday.
The Aztecs, who were not scheduled to practice over the weekend, begin game week preparations Monday for Saturday afternoon's season opener against Arizona. It will be the first game at SDSU's new Snapdragon Stadium.
According to the Los Angeles Times, SDSU officials and head football coach Brady Hoke were made aware of a criminal investigation of the incident Oct. 19. The following week, on Nov. 5, SDSU executive associate AD Jenny Bramer emailed well-known rape survivor Brenda Tracy and her booking agent to see if Tracy could give her presentation to "a few populations" on campus — tops on the list, the football team. Bramer copied SDSU Title IX coordinator Gail Mendez and Danielle Kelly, an assistant athletic director and student-athlete development coordinator, on the email, which offered no reasons for requesting Tracy's services.
Tracy spoke with the football team and its coaches Nov. 28, two days after the 25th-ranked Aztecs beat Boise State in the regular-season finale and as the team was preparing for its Dec. 4 Mountain West championship game, which it lost to Utah State.
In an interview earlier this month, Tracy the Union-Tribune that when she came to speak to the university's football team and coaches, she was unaware of the specific gang-rape allegations.
Araiza, an All-American known as the "Punt God" during his days at SDSU, had effectively earned the starting job Monday when the Bills released former punter Matt Haack. He did not dress for Friday's preseason game at Carolina, and the Bills released him Saturday.
An attorney representing the alleged victim criticized the Bills even after they cut Araiza, the team's sixth-round draft choice, on Saturday.
"The Buffalo Bills had no choice but to cut their young punter after so badly botching their response to our claim: they ignored us, as though what I warned them would happen could be avoided if they just kept their heads in the sand,'' attorney Dan Gilleon said in a statement provided to USA TODAY Sports, and shared by Yahoo! Sports. "This is what enablers do."