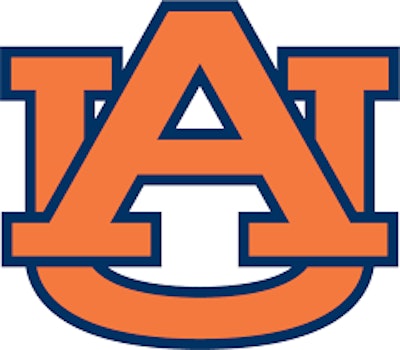 Media members and peer institutions alike chimed in to criticize Auburn University in the wake of the resignation of athletic director Allen Greene.
According to Pete Thamel of ESPN, Greene was entering the final five months of his contract, which is a rarity among athletic directors at major conference schools. Greene had asked Auburn for clarity about his future with his deal expiring in January, sources told ESPN, and he was told that Auburn was likely to wait until the end of football season to make a decision.
A headline on All Hogs, a Sports Illustrated web presence serving the University of Arkansas fan base reads, "Arkansas Fans Can Just Giggle at Auburn's Palace Coup: Hogs have had one single clean-out in last 65 years while Tigers do it every five years."
Greene is a former Notre Dame baseball player who developed a strong reputation in the athletics industry as he worked his way up the college athletics ladder as an assistant AD at Ole Miss to Buffalo, where he was a deputy and then the athletic director, before arriving at Auburn in 2018.
Kevin White — who served as athletic director at Arizona State, Notre Dame and Duke — called Auburn "truly legendary" for its "political dysfunction" in a statement Friday. White was the first AD for whom Greene worked.
White, who remains at Duke as a professor of management and organization, called Greene a "rockstar leader" and concluded that Auburn's failure to keep him is "a death blow moment."
Thamel's ESPN colleague, Adam Rittenberg, tweeted, "Not sure there's a less powerful AD position in college sports than the one at Auburn."
"Congratulations @AGreeneIV for getting the heck out of a crazy situation for greener pastures! I admire how you managed that chaos with class & integrity," University of Tennessee athletic director Danny White, Kevin's son, wrote on Twitter. "Look forward to seeing your next chapter!"
Greene served as the younger White's deputy athletic director at Buffalo and took over for him when he left for the University of Central Florida.
"The decision to step away from Auburn Athletics is not an easy one, but it is the right time for me to begin the next step in my professional journey," Greene said. "I am very proud of the work that we have done together to move our athletics program forward. Christy and I want to thank the Auburn family for allowing us to be a part of something truly unique, and I wish Auburn nothing but the best in the years ahead. I'm confident we leave Auburn Athletics stronger than when we arrived."
As reported by Sports Illustrated, Greene was often in the middle of battles between Auburn boosters and coaches, and he been taking some heat recently about his lack of communication during issues involving second-year football coach Bryan Harsin, whose program has been described by some as toxic and dysfunctional.
Marcy Girton, the chief operating officer of Auburn athletics, will take over the interim athletic director position while the university looks for a replacement.