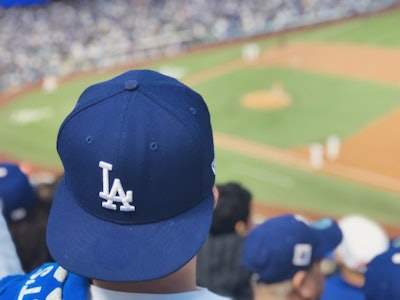 As the Los Angeles Dodgers begin game two of the MLB division playoffs, concession stadium workers who staff the food and beverage stands at Dodger Stadium voted 98 percent in favor of ratifying a historic union contract with the two companies that run concessions at the stadium — Compass Group and Levy Restaurants.
Dodger stadium concessions workers voted to strike if needed ahead of this year's MLB All-Star Game, but following positive negotiations since then, Compass/Levy workers at Dodger Stadium this week announced that 75 percent of workers will earn more than $30 an hour by the end of their new contract.
According to a news release, some employees — including stand workers, dishwashers, and cooks — will see increases of more than $13 an hour. Workers also won additional pay in recognition of service during COVID-19 and increased funding for their pensions and healthcare.
"This is a historic day for Dodger Stadium workers. As the team goes on to play for the top prize in baseball, the workers who serve the food and pour the drinks have also won. These workers will now earn wages where they can support a family," said Susan Minato, co-president of UNITE HERE Local 11
Cheryl Angustain, who has worked four seasons in concessions for Compass/Levy at Dodger Stadium, said the new raises will allow her to afford an apartment of her own instead of sharing a room.
"This contract will change my life," Angustain said.
Compass Group is the sixth-largest company in the world. Its subsidiary, Levy Restaurants, employs nearly 1,500 food servers, bartenders, suite attendants, cooks and dishwashers at Dodger Stadium.