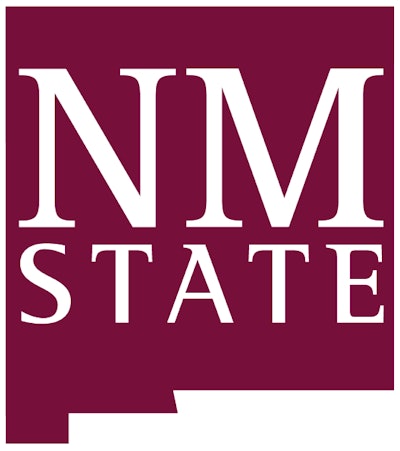 New Mexico State University basketball forward Mike Peake has been suspended indefinitely for his involvement in the November shooting that resulted in the death of a University of New Mexico student.
As reported by CBS Sports, Peake has not been charged with a crime, and there is no update on his status as a student at NMSU.
New Mexico State athletic director Mario Moccia and coach Greg Heiar had made the decision to suspend Peake earlier, but didn't want to make the disciplinary action public while Peake was recovering from a gunshot wound in the leg from the incident. Last week, Peake posted on social media that he has had three surgeries.
"Mike Peake is indefinitely suspended from basketball activities," Moccia said, as reported by the Albuquerque Journal. "There is a university discipline process that is under a more protected category that can't really be [commented on] to the general public."
Until Monday, NMSU had not spoken publicly about any specific discipline for Peake related to the shooting, his sneaking out of the team's hotel room the morning of the UNM game or his carrying a gun on a school-sponsored trip, the Journal reported.
"If you want to criticize, the timing, then I will take that criticism," Moccia said. "However, while I can't get into the details, while a student athlete who has been here for years [Peake played for the Aggies in the 2021-22 season] is in the hospital with multiple procedures, I did not feel that that was the appropriate time to make that announcement."
According to the Journal, Peake took a gun on the team bus when traveling to Albuquerque for the Rio Grande rivalry game against UNM. In the early hours of Nov. 19, he snuck out of the hotel and went to the UNM campus. Heiar said during a press conference last week that he was not the only player who left the room without permission that night.
Brandon Travis, a 19-year-old UNM student, was killed and Peake was injured in the shooting on UNM's campus on the day the annual NMSU/UNM rivalry basketball game was to be played in the Pit.
Police reports indicate Peake, 21, was lured to the UNM campus around 3 a.m. by four UNM students. Three of them wanted to attack him as payback for his being one of several people, including two Aggie basketball players and one University of Texas at El Paso basketball player, seen on video fighting Travis at an Oct. 15 UNM/NMSU football game in Las Cruces, the Journal reported.
Moccia declined to say when he told Peake about the indefinite suspension or if he knew Peake's current condition after the surgeries.
The Journal did contact Peake through one of his social media accounts, but he has not commented on the matter.