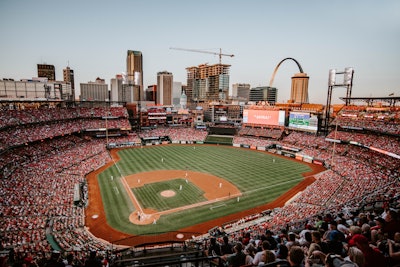 Delaware North Sportservice, the concessionaire of the St. Louis Cardinals for more than 50 years, hosted a hiring event Saturday at Busch Stadium for various part-time and seasonal positions.
"We're still currently looking for stand attendants in the concession stands, retail associates to work in our official Cardinals team store, and also in the premium area," concessions manager Martin Bethea told Fox affiliate KTVI in St. Louis.
As reported by KTVI's Ala Errebhi, job-seekers filled the seats in a makeshift waiting area of Busch Stadium, hoping to land an interview and new opportunity ahead of 2023 baseball season.
Concession employees can earn up to $20 to $30 an hour after tips. They also get discounts on retail items at the Cardinals team store.
"We are looking for anyone from the age of 16 and up. We are willing to train in our concession area, we're looking for supervisors," said Bethea.
The Cardinals, who may host additional hiring events, have also developed a "Work at Busch" landing page on their website dedicated to filling concessions employment vacancies.