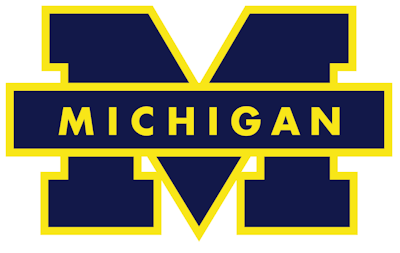 Glenn "Shemy" Schembechler, hired last week as the University of Michigan's assistant director of football recruiting, resigned from his role Saturday amid scrutiny of his social media activity.
Schembechler is the son of late Michigan head coaching legend Glenn "Bo" Schembechler.
"Effective this afternoon, Shemy Schembechler has resigned his position with Michigan Football. We are aware of some comments and likes on social media that have caused concern and pain for individuals in our community. Michigan Athletics is fully committed to a place where our coaches, staff and student-athletes feel welcome and where we fully support the University's and Athletic Department's commitment to diversity, equity and inclusion," read a statement signed by Michigan athletic director Warde Manuel and football coach Jim Harbaugh, as reported by Sports Illustrated.
Schembechler's resignation comes after his Twitter account was seen "liking" racist tweets. The account had reportedly been removing previous "likes" but has since been deactivated, according to Karl Rasmussen of SI.
According to several sources, Schembechler's Twitter feed contained posts and likes of offensive material, including some that suggested slavery and Jim Crow were positives to strengthen Black individuals and families.
Schembechler played for his father, who coached Michigan from 1969 through 1989, and was later an NFL scout. In a statement released Sunday night and reported by The Associated Press, Schembechler said that his life, and that of his father and family, has been devoted to the best in people, regardless of their race or religion. He said he had "inexplicably and irresponsibly" liked items on social media.
"What I do for a living is far less important than for people to know what is in my heart, and has been ... instilled in me by my pioneering father," said Schembechler's statement released by the public relations firm of Rose + Allyn. "By inexplicably and irresponsibly liking things on social media I owe an unabashed and unequivocal apology to my hundreds of friends and fellow coaches in the Black community, all communities ... . Any words or philosophies that in any way seek to underplay the immeasurable suffering and long-term economic and social inequities that hundreds of years of slavery and the "Jim Crow" era caused for Black Americans is wrong. I was wrong."
Schembechler went on to apologize "profusely" to anyone he had offended and said he was hoping for "forgiveness based on my expansive life's work, and not any moment of indiscretion."