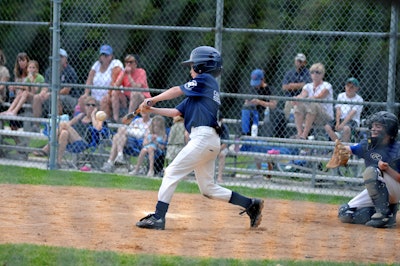 With 630 players on more than 50 different teams, West Madison (Wis.) Little League needs roughly 24 umpires every weekend to cover all the games.
WMLL board president Jerry Schmitt told Madison NBC affiliate WMTV that over the past five years, it has grown increasingly challenging to find umpires to staff all of their games.
While many youth leagues around the country are facing an umpire shortage, Schmitt said WMLL's challenges are little different because 95 percent of its umpires are either current or past players whose availability is limited by demands on their time.
"Kids are more involved in multiple activities more than ever," Schmitt said. "So are the parents, and that reduces availability."
In an effort to recruit more umpires and retain the ones they currently have, WMLL lowered the age limit to 12, offered additional training and increased the pay.
"We didn't let kids start until they were 13 because we had enough players to do it," Schmitt said. "And as things transitioned, you noticed that there's more and more games that we don't have two umpires, we started to lower that level."
WMLL umpire coordinator Joan Farrell told WMTV that the organization has 115 umpires registered, and two games so far this season didn't have anyone signed up to umpire. Farrell said the worst-case scenario is a coach or parent volunteers to umpire in a pinch.
To further support its current roster of umpires, WMLL introduced for this season a zero-tolerance policy for arguing or questioning an umpire's decision.
"So there's no ambiguity," Farrell said. "It's not one decision can be made for one family who complained and another for a different family who complained. This is our policy, I'm sorry if it's strict but this is our policy and we expect all people to adhere to it."
Schmitt said it can be intimidating for youths to step into an umpire role.
"They've been taught to listen to the coaches, now they're the ones in charge of the games and it's hard to do that to an adult, I can understand why that would be intimidating," Schmitt said. "That's what we always want to remind people this will make them better players, this will make them better people, this will make our community better."