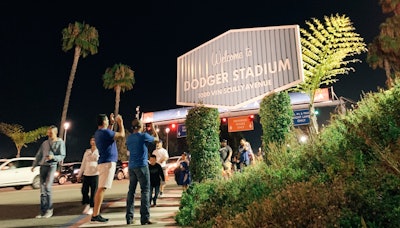 Mathew LeJune, Unsplash
The Los Angeles Dodgers and the union representing about 450 Dodger Stadium workers have reached an agreement on two new five-year contracts, ending tense negotiations that lasted months.
As reported by the Los Angeles Times, a statement released by the parties Tuesday indicates one agreement will give the lowest-paid game-day employees total wage increases between 45 percent and 50 percent over the five-year period. Affected workers include ushers, security officers, ticket takers, ticket sellers, hospitality team members and groundskeepers.
Full-time employees and ushers have separate contracts, a union spokesman said.
"I'm proud of all of the members of our union, SEIU-USWW, for their hard work and strong organization," Dodger Stadium usher and union executive board member Irene Aguilar said in the statement, as reported by the Times.. "Thank you to the Dodgers for working with us to reach a fair agreement that will benefit stadium workers for years to come."
With the workers' previous contract set to expire Jan. 31, negotiations began in November, according to officials from union SEIU-USWW — Service Employees International Union-United Service Workers West.
More than 80 workers gathered outside the stadium earlier this month in protest before the Dodgers hosted the New York Yankees on national television. Union leaders threatened to strike if an agreement wasn't reached by the end of the month.
"In my 27 years working with the SEIU, representing these workers, we have never had to go on strike," SEIU-USWW president David Huerta said after the protest, according to the Times. "But the circumstances we're looking at — when you look at inflation, you look at the profitability of this organization, the cost of living — the wages that are being negotiated now, these workers understand that this is a moment for them, to be able to negotiate what they consider what they need to be able to survive in this city."
The last contract included an 18 percent wage increase over five years. Union officials argued a more substantial raise was necessary given the skyrocketing cost of living and inflation in recent years.
In October, concessions workers reached a separate agreement on a contract that included at least a $10-an-hour raise over two years after threatening to strike during the July 19 All-Star Game at Dodger Stadium. Whereas workers represented by SEIU-USWW are direct employees of the Dodgers. concessions workers are employed by Chicago-based Levy Restaurants
"These new contracts confirm the strong working relationship that exists between the Dodgers and SEIU-USWW, and we thank David Huerta and the other union representatives for their collaboration throughout the negotiation process," Dodgers president and chief executive Stan Kasten said, the Times reported.