Need to accommodate new recreational activities and increase the flexibility of your facility? Multipurpose activities courts may be the solution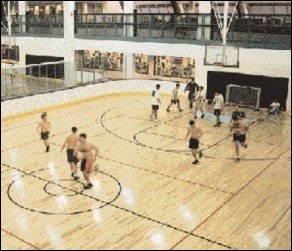 As we are all aware, prospective college students - and their parents - carefully evaluate campus life facilities as they weigh their choices in the important, and expensive, decision about where to continue their education. In turn, colleges and universities are making serious investments to improve their facilities as they compete for the highest caliber of students.
Dramatic transformations are taking place as vintage campus structures known as student unions, dorms and gyms are being replaced by much more attractive, appealing and user-friendly facilities called student life centers, residence halls and campus recreation centers.
Driven by a strong interest in health and fitness, no campus building type has undergone as great a metamorphosis as that of gym to recreation center. Today's recreation centers must still accommodate the traditional gymnasium space, but must also provide such amenities as weight and fitness facilities, jogging tracks, climbing walls, aerobics studios, and racquetball and squash courts - all in a clean, pleasant environment. To make facilities more appealing to students, recreation directors are also seeking new ways to enhance their program options - and maximize the recreational value of their facilities - by creating flexible spaces that can be used by a variety of activities.
The basic gymnasium of the past accommodated only the traditional sports of basketball, volleyball and badminton. Now, however, facilities need to respond to the new requirements of emerging sports such as indoor soccer, floor hockey and even roller hockey.
Indoor soccer and floor hockey are best played in a space shaped like an ice hockey rink, with rounded corners to keep balls or pucks moving smoothly around the periphery of the playing floor so players don't have to dig them out of corners. It's not uncommon to hear tales of folding tables being placed on their sides and set into the corners of a gym to create the desired "arena" effect for lack of a better solution.
Given the direction that indoor sports are taking, it was inevitable that a permanent solution - the Multipurpose Activities Court, or MAC - would be developed to meet the special requirements of these newer activities and still respond to recreational basics. The originator of the multipurpose activities court concept has never been officially identified, but credit might be given to Bob England, director of recreation at Eastern Michigan University. In the early 1980s, England transformed a utility gym with a 9-foot ceiling (much too low, as it turned out) into a MAC by installing a 4-foot-high concrete-block wall with rounded corners in the space.
The first MAC encountered by Sasaki was in October 1990, in the then-new recreation center at Central Michigan University. At Central Michigan, two side-by-side MACs were separated by a raised, enclosed stage that could be used by an aerobics instructor. The walls were poured-in-place concrete and concrete masonry with rounded corners about 8 feet high. The floors were hardwood, which was appropriate for floor hockey, indoor soccer and aerobics, the only programs using the space. The spaces were totally enclosed, and at first glance, they looked like a typical gymnasium in height and floor layout, minus the floor striping, basketball backstops and volleyball sleeves of a standard gym. The view of the MACs through a floor-to-ceiling glass wall from the main circulation spine on the upper level was dramatic.
Since that time, stand-alone MACs or MAC-type gymnasiums have been constructed in a growing number of recreation centers across the country. They are invaluable in broadening the options and increasing the flexibility of a recreation center.
In developing a MAC, the first step is to determine which sports or activities the space needs to accommodate. Prepare to make some compromises. Sports layouts and dimensional clearances, how the space is enclosed, plus mechanical and electrical systems, will all reflect the needs of these varied uses.
A good starting point is to decide whether or not a basketball court will be provided and if so, which size will accommodate the program, a 50-by-84-foot recreational court or a 50-by-94foot NCAA court. Volleyball and badminton will readily fit the floor dimensions of either basketball court size, while recreational indoor soccer and floor hockey seem to have a lot of flexibility in their playing dimensions. Safety clearances at the ends should be about 10 feet beyond the baseline and 6 to 8 feet along the sides. With basketball court dimensions as your starting point, you can evaluate whether to increase the floor size to meet the requirements of other activities such as semi-official indoor soccer.
A MAC may take the form of a standalone gymnasium or it may be contained as a distinct element within a larger multicourt space. It's easier to control the environmental systems such as lighting, air handling and sound in a single-court, gymnasium-type MAC. If a MAC will be used for aerobics, dances or other activities with music that would disturb people nearby, a stand-alone MAC should be specified. If intramural or recreational programs require several MACs, it's preferable to place them side by side, so that waiting teams can observe the competition. The clear, unobstructed ceiling height for a MAC should be between 23 and 27 feet, the same height required for recreational basketball and volleyball.
Solid masonry walls 14 feet high with rounded corners are adequate to contain most airborne soccer balls and floor hockey pucks. An increasingly popular solution, however, is a polyethylene dasher board and glass system like those used in ice hockey rinks. A solid base (3 feet, 6 inches is standard in the United States and 4 feet in Canada) is topped by a clear shielding that offers views into the activity space. Tempered glass is preferred over acrylic for the shielding because it is more resistant to being scratched by the grit on soccer balls that strike the surface. In response to growing interest in this enclosure approach, dasher manufacturers are producing systems that are less expensive than ice hockey systems, which have been developed to withstand much greater impact. Consider padding the hard lower surfaces to help protect participants from injury.
If a dasher-enclosed MAC is part of a multicourt gymnasium, then the side walls of the dasher and shielding should not go much higher than 11 feet, 6 inches, which includes a 3-foot, 6-inch base and 8 feet of shielding. A fold-up divider curtain just above the dasher glass and parallel to the side walls will provide complete enclosure, the same way that nets are used to separate basketball courts in a gym or field house.
Demountable dasher-type systems are available and may be worth investigating if it isn't clear that a permanent MAC is needed or desirable. Bear in mind that a portable system will require time to set up and take down, and that it will also need to be stored, preferably in a nearby location.
Special added features can make a positive impact on the reception constituent groups give to a MAC. Built-in player boxes on one side, similar to those found at a hockey rink, complete with a scorers' table and penalty boxes, will contribute to a sense of recognition and status. Connections from the scorers' table to an overhead scoreboard on the wall opposite the players' bench, plus the provision of a PA system, are also useful and appreciated.
One nice feature is the addition of built-in soccer goals. Unfortunately, however, they take up space outside the MAC where they can create a circulation hazard. This is one reason that free-standing soccer and floor hockey goals are often used. If basketball backstops are installed, make sure they can be retracted up and out of the way for soccer and volleyball.
The flooring that is appropriate for a MAC will vary depending on the mix of activities that will take place and the priority given to each activity. The four basic sports floor surfaces used in MACs are hardwood (usually maple), synthetic sheet goods, poured urethane products and suspended interlocking tile floors, which are popular with volleyball associations. It's this type of floor that's also the official surface of the professional in-line skaters league.
In-line skaters also favor wood floors, but modifications must be made to the hardness of the wheels to give better traction, and flush-type wheel nuts should be required to minimize floor scraping. Floor-hockey sticks, which scratch and dent the surface, cause the greatest damage to wood floors. Similarly, in-line skating and roller hockey can cause dents in a wood floor that may preclude the safe, comfortable use of the surface for aerobics. If aerobics and basketball are using the same space, then there is a floor compromise to be made. A more resilient wood floor may be good for aerobics, but may not provide sufficient ball rebound for basketball.
Rubber sheet goods and poured urethane floors come in a variety of thicknesses to suit any activity, with a wide range of costs, textures, surface friction and resiliency available. However, they are not the best surface for floor hockey. Pucks do not slide well, although balls can be used instead. Sticks also do not slide when striking the puck, but instead will catch on the floor's surface because of the friction created. High-impact interlocking tiles are smooth but should not be installed over a very resilient floor that could cause the corners to pop up. If the space is to be used exclusively for indoor soccer, then an artificial turf surface may be desirable, but then you no longer have a multipurpose space.
In general, synthetic surfaces are less costly than wood floors and they also avoid the need to deal with expansion and contraction of the floor surface. Nevertheless, wood floors tend to be a better long-term solution for most typical MAC activities and, if the budget will bear it, are worth serious consideration.
Depending on the direction of the grain, temperature and humidity conditions, a wood floor can expand and contract up to 1 1 / 2 inches at the sides over a 50-foot-wide court. The floor edge treatment must anticipate this movement. Standard solutions involve installing either a rubber vented cove base or a kickplate. A rubber cove base, used in most wood floor installations, is adhered to the wall and extends 3 inches horizontally over the gap designed to anticipate the floor's movement. Some operators are concerned about hockey sticks catching on the rubber base and therefore prefer to install a yellow polypropylene kickplate (also known as a kick strip) typically used in ice hockey arenas. However, if a standard cove base is acceptable, it can be attached to the dasher and will provide the overlap necessary to cover the expansion at the corners. The cove base must be notched and curved to match the radius, an easy task for an experienced installer.
If the more traditional look of the dasher system's standard yellow kickplate is desired, one way to handle the expansion detail is to overlap the dasher floor plate as far as the manufacturer will accept over the depressed wood floor, maintaining a rigid and secure attachment to the floor. The dasher surface is normally 3/8 - to 1/2 -inch thick solid polyethylene or a combination of 1/4 -inch poly and plywood. The kickplate is 1/2 inch, which amounts to 3/4 to 1 inch of floor overlap - not enough overlap for most expansion conditions. The solution is to thicken the space behind the kickplate by building it out with wood or polyethylene blocking to achieve the necessary overlap.
To prevent dasher system doors from swinging into a moving player on the court, they should swing out from the MAC and have a top-latch release that can be operated while wearing a hockey glove. It may be necessary to have some double doors to permit the easy movement of larger equipment, such as soccer and floor hockey goals. Bear in mind that the rollers on the larger doors of a dasher system may mark up the floors adjacent to the MAC and may warrant the selection of a harder flooring material in that area. If there is a separate storage room for MAC-related equipment, the doors of the two spaces should be aligned to facilitate the moving process.
If a dasher system is used, it's important to take into account the surfaces above the shielding and select a material that will withstand abuse. If there is a vertical or horizontal surface above the glass, it should be designed to resist the impact of soccer balls and floor hockey pucks; the polyethylene material used in the dashers is suitable in this location. In many recreation centers, an elevated jogging track circles at a level above the MAC. Normally such a track would have a 3-foot, 6-inch-high railing or guard. However, to protect joggers from errant soccer balls and floor hockey pucks, the railings that overlook the ends of the MAC should be at least 5 1/2 feet high. Use balusters or mesh between the railing that will withstand the impact of balls and pucks and have small enough spaces to prevent pucks from fitting through the openings.
As in any gymnasium, it's important to minimize projections into the MAC that could result in someone being injured. For example, if standard hollow metal doors for a storage room open into the MAC, it makes good sense to use invisible hinges and flush hardware, and to install the frame flush with the wall if possible. Finally, since MACs are a new concept to most code inspectors, it's advisable to have the inspector review the project early in the process to make sure he or she understands and approves the design before the final stages are reached.
The rules that apply to lighting and ventilating a gymnasium also apply to a MAC. If the space will accommodate larger than normal crowds, such as dances, then the mechanical engineers need to be informed in order to take the resulting heating, cooling and ventilation loads into account. If the space is a separate room that will be used for special activities such as aerobics, dimmable lighting or a special sound system may be in order. Impact-resistant light fixtures are a must in any space where projectiles have a chance of reaching those heights.
During the last decade, the MAC has started to come into its own, but it is also an evolving form - witness the inherent flexibility of the concept. At the University of New Hampshire's student recreation center, completed in October 1995, the design incorporates two side-by-side MACs that were constructed using an ice hockey dasher board system (which seems only fitting since the facility was created through adaptive reuse of the old Snively Hockey Arena). A corridor surrounds the MACs, which facilitates spectator viewing from all sides and makes it easier for the recreational staff to supervise activities. While there are three other basketball courts in the facility, the MACs are the most heavily used, in part because they have high visibility within the building, but also because of their uniqueness. Wood was selected as the floor surface because basketball and volleyball were thought to be the prime activities, even with the popularity of the floor hockey program. The program space around the courts would not allow for the added feature of built-in goals, which would have projected into the adjacent corridors.
Future MAC projects may move in new directions, depending on the needs of the particular institution and its recreational program and budget. Plans for a new recreation center at the University of Vermont took into account the popularity of roller hockey and introduced the design of a "Big MAC" large enough to accommodate a 65-by-165-foot roller hockey rink. While not every institution can afford to dedicate so much square footage to a single recreation space, in some cases it might be the right solution. Other new features on the horizon include floor-toceiling glass MACs, a system that is currently being used by professional indoor soccer teams in Europe.
MACs are not just a fad, but a solid solution to the needs of a variety of recreational activities. There is little downside to building a MAC or two, and a great deal to be gained from the flexibility they add to the recreation program an institution is able to offer its students.