A new sport blending elements of baseball and softball makes its pitch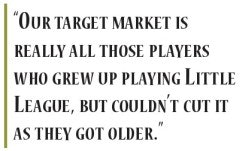 Baseball has always been Tim Hott's first love. From Little League to high school, Hott spent countless hours cranking out base hits and shagging fly balls at baseball diamonds all over Long Island.
Even after a 20-year hiatus from the game ("I played softball because there were no baseball leagues," he says), Hott, then age 39, jumped at the opportunity to swing a wood bat once again, this time as a player in a men's senior baseball league. But naturally, two decades had taken their toll on Hott's body, and as was the case for many of the league's other participants, his eyesight and reflexes had diminished. "By then, I had been away from the game for a long time," says Hott.
Now 54, Hott and other middle-aged baseball players (including former major leaguer Steve Sax) are hoping a new sport called Fastball will give themselves and their peers a chance to requite their passion for the game.
The brainchild of Steve Sigler, founder of the Melville, N.Y.-based Men's Senior Baseball League/Men's Adult Baseball League, Fastball is a game that incorporates some of baseball's most-exciting elements - overhand pitching, bunting, base stealing and wood bats. Yet, thanks to a modified ball from Rawlings that is slightly larger and softer than a regular baseball, the sport is adaptable for safe play on smaller softball diamonds.
"Our target market is not actual baseball players. They would find this game fun, but they're not going to improve their skills playing Fastball. Our target market is really softball players, all those players who grew up playing Little League but couldn't cut it as they got older," says Hott, New York regional director of the United States Fastball Association, the game's nonprofit governing organization. "There are something like two million amateur softball players, a whole lot more people than there are playing baseball. This game has the potential to be that big."
Given the positive response at several Fastball demonstration games this past year, Hott could be on to something. An October exhibition at Big League Dreams Sports Park in Chino Hills, Calif., ran concurrently with a softball tournament. "We kept asking guys who were in between games to come on over and try out Fastball. Well, our demo game ran something like 3 1/2 hours," says Hott. "By the end of the game, they had so many people signing up, they didn't have enough field space or time committed for the upcoming season."
"We were going to host a league, but we decided to do some tournaments instead," adds Dennis Swartout, the exhibition's host and USFBA's California South regional director. "I'm still getting calls from guys saying, 'Hey, I got your flyer. When are you guys going to start playing?' "
Several hundred miles north along Interstate 5, the Fulton-El Camino Recreation & Park District in Sacramento has already answered that question for its residents. Last spring, the park district held its first Fastball league, in which five teams participated throughout a 10-week-long season. The league's most recognizable player was Sax, USFBA's national spokesman and a local resident. "The games I played in were a lot of fun," he says. "I'll play again next season."
Park district officials hope widespread enthusiasm carries over to this spring, when they plan to double the size of their Fastball league. "It was a great experience for everybody," Becky McDaniel, Fulton-El Camino's recreation supervisor, says of last year's trial. "We'll expand if I can get enough fields. There's not enough space because we're competing with the softball teams."
Swartout has chosen not to pursue direct competition with the popular softball leagues in his area. Rather, he spent the winter trying to persuade officials from parks and recreation departments in Chino Hills and nearby Costa Mesa, two communities that straddle San Bernardino and Orange counties, to use Fastball as a supplement to their existing recreational offerings. "This area has five softball complexes, each with eight fields," says Swartout. "The Chino Hills parks and rec department has said that with its softball leagues, its fields are about 85 percent full. We said we have a game that can fill up the other 15 percent."
On the East Coast, Hott has been doing his part to satisfy the needs of Long Island parks and recreation departments, while building a Fastball following among area residents. The town of Oyster Bay, for example, launched its first Fastball league this past fall, with three teams participating in a 12-game season. Games were played on Sundays in a doubleheader, round-robin format. This month, another Fastball exhibition game is planned with the goal of attracting more players for the upcoming season, which begins in mid-May.
Hott hopes to cull players from the area's privately run recreational softball leagues. "There are leagues on Long Island that have as many as 500 teams. Guys who are serious about softball will sometimes play on four or five teams. We're asking them to drop one of those teams to play Fastball," he says. "Once I get people down to play the game, it'll turn into a word-of-mouth thing. You can kind of understand Fastball when you read about it, and a little more when you watch the video on our web site. But until you've actually played it, you don't understand how well the game actually works."
Fastball works like this: All pitches are fastballs (thus, the name of the game). Playing divisions are determined by age (players must be at least 18 years old), gender and pitch speed. The "Rookie" division, for example, allows pitches of between 30 mph and 40 mph; the "A" Division, 40 mph and 50 mph. The "Elite" division allows the fastest pitches: 60 mph to 70 mph.
Pitch speed is monitored by the homeplate umpire, who from behind a screen clocks each pitch's speed using a modified radar gun. Pitches that fall outside of either the speed range or the strike zone are illegal pitches and called balls (as are any pitches other than straight fastballs). A batter earns a base-on-balls on three balls and strikes out on two strikes. This rule helps keep the seven-inning games to a 75-minute maximum. "There's that niche of softball players who want to play baseball, but don't have the ability - because of their families, careers or whatever - to invest three or four hours in a baseball game," says Swartout. "This game satisfies that market."
In Fastball, batters are allowed to bunt, hit-and-run and steal bases, although no leading off is allowed. Because the game uses wood bats and softer balls, Fastball officials say there's less chance for players to get injured. "Once you hit the ball, it really comes off the bat, but it eventually tails off," says Sax. "We've seen balls that were crushed but never make the 300-foot mark."
The game also offers creative opportunities for teams to generate more offense. For example, when there are two outs and no one on base, each subsequent runner who crosses the plate that half-inning is credited with scoring two runs. "There's always a twist," says Sax.
The latest twist in Fastball's young life involves the United States Specialty Sports Association, an amateur sports organization offering tournaments and leagues in sports such as softball, volleyball, soccer and basketball. In December, the association agreed to add Fastball as its 10th sport and promote the game to its nearly two million participants nationwide.
USFBA president Val Lewis has particularly great expectations for growth in the Midwest. He predicts major cities like Kansas City, Mo., will give birth to as many as 500 new Fastball teams this year. "Although it's not directly associated with parks and recreation departments, the USSSA is going to introduce Fastball to both youth and adult leagues in all 50 states," says Lewis. "We want to sit down with parks and rec people. We know they have had a drop-off in field usage and want those fields used. We're willing to go out, generate the interest, sign up players via our web site [www.usfastball.com] and send the lists out to parks and rec departments."
By the time the opening pitch is thrown in the first national Fastball tournament, scheduled for Oct. 14-17 at Disney's Wide World of Sports Complex in Orlando, Fla., USFBA officials expect the game to have grown by leaps and bounds. "This game came out of nowhere," says Lewis. "Here we are, six months old, and we're already linking up with some big organizations. Stay tuned."