Equipment manufacturers' warranty policies come in all shapes and sizes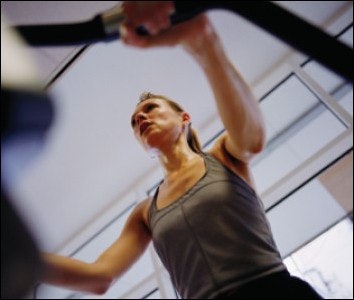 According to one of Murphy's Laws, if there is a time for something to go wrong, it will go wrong at the worst possible time. This should especially strike a chord with fitness facility operators, who, regardless of the size of their fitness areas, are all faced with the possibility of equipment breakdown at inopportune times.
Generally speaking, such breakdowns are the result of improperly or infrequently maintained fitness equipment. Manufacturer warranties can step in to provide some measure of protection, but facility operators should be aware that few warranty packages offer blanket coverage. Because warranties run the gamut - for example, some pieces of strength equipment feature lifetime warranties on certain parts, while warranties on cardio machines rarely extend past three years - it's imperative that before outfitting their fitness areas, facility operators thoroughly investigate and understand the warranty options available to them. Says Chad Berwaldt, director of service for G&G Fitness Equipment Inc. in Williamsville, N.Y., "There isn't an exact industry standard. It just depends on the manufacturer."
"Manufacturers tend to follow each others' leads," but not always, says John Carr, vice president of the commercial products division for Fairfax, Va.-based Fitness Resource, an authorized distributor of commercial fitness equipment from nine major manufacturers. "You can get anywhere from a one-year parts-and-labor warranty to a warranty that covers electrical parts for two years and mechanical parts for one," he says. "And then some companies really break it down. On its treadmills, one manufacturer even has a separate warranty for the springs underneath the deck."
Facility operators uncertain of what to look for in a warranty should consider the answers to six important questions:
1. What is the manufacturer's warranty on strength equipment? In general, equipment manufacturers offer longer warranties on strength pieces than on cardio machines because they feature fewer moving parts and none that are electrical. "On strength equipment, there are not a lot of pieces that are going to fail, so you'll get either 10 years or a lifetime warranty on the frame," says Berwaldt.
For moving parts such as pulleys, pivot points and bearings, warranties can range from three to five years. Cables, grips and upholstery usually come with a three- to six-month warranty.
2. What is the warranty on cardio equipment? Like strength machines, there is no template for cardio equipment warranties. However, Dave Sheriff, owner of Healthstyles Exercise Equipment, a distributor based in Glenwood Springs, Colo., says that a satisfactory package would offer two years of replacement coverage on moving parts, one year of labor and 10 years of coverage on the frame - although some companies will "go above and beyond" such an offer.
And if a manufacturer sells several types of cardio equipment - steppers, treadmills, and both upright and recumbent exercise bikes, for example - the company's warranty policies will likely be very similar for all of its cardio lines, but not identical.
In any case, beware of the fine print. "Certain manufacturers cover manufacturing defects, but some say they won't cover wear items," says Berwaldt. "When you get down to it, you can consider almost anything a 'wear item' - pulleys, bearings, plastic housings. You want to see how strict the company is on wear items. Some are pretty lenient, others aren't."
3. What is the manufacturer's reputation? "Warranties are deceiving," says Rick Barbee, director of commercial sales at LA Gym Equipment in North Hollywood, Calif., "because a longer warranty doesn't necessarily indicate a better product. Even if the warranty is 'free,' if the equipment is breaking all the time, that's not what you want."
Barbee offers the example of one well-known exercise bike manufacturer. "The company only offers a one-year warranty. It has been around for years, and hasn't changed its warranty because people know that it makes one of the most dependable and durable bikes in the industry," he says. "If a manufacturer comes out with a warranty that's way beyond the industry average, it might just be trying to drum up business."
"You should always buy a reputable brand of equipment. Some people see that they can save a little money now by going with a less-reputable brand, but you end up paying in the long run on repairs," says Carr. "Look, a Lexus is better quality than a Chevy. There's nothing wrong with a Chevy - I drive a Chevy. But the reality is that the Lexus is going to last longer, perform better and require fewer repairs. It's the same way with fitness equipment."
4. Does the manufacturer or dealer offer extended warranties? According to Carr, very few, if any, manufacturers currently offer extended warranties on their products. However, as more facility operators come to demand and expect longer warranty periods (high-volume facilities, in particular, says Carr), some equipment dealers have taken it upon themselves to put together extended warranty packages that, for as little as $125 per piece of equipment, can provide up to two years of additional coverage.
Fitness Resource and LA Gym Equipment both recently began offering extended warranties that are underwritten by independent insurance companies, "much like the extended warranties offered by places like Best Buy or Circuit City," says Barbee. "You want to make sure that you're getting the policy from a multimillion-dollar insurance or warranty company that has the resources to back it up. A lot of dealers who say they can do extended warranties will just mark it on the original invoice. But if they go out of business a few years down the road, the extended warranty is worthless."
5. What type of preventive maintenance program is available? Make no mistake, says Berwaldt, preventive maintenance programs should never be viewed as substitutes for manufacturer warranties. However, given the relatively short terms offered by most warranties, in the long run preventive maintenance programs can be quite valuable, especially for high-volume facilities and if a facility's equipment warranties have expired. Preventive maintenance programs are offered by dealers (manufacturers don't get involved in the process), generally feature periodic equipment inspections performed by the dealers' in-house technicians or an approved third-party equipment repair company, and are priced according to the number of equipment pieces requiring inspection.
When inquiring about a dealer's preventive maintenance program, make sure to pinpoint the frequency of visitation from the service staff. For strength equipment, two service calls a year is generally acceptable. But a service technician should be expected to stop by on a quarterly or even monthly basis to inspect a facility's cardio equipment. "There are so many moving parts that need to be lubricated, and electronic parts that need to be checked with a voltmeter," says Carr. "Take, for example, a motor control board in a treadmill. If you check it early enough, you might only have to replace the motor control board. But if you don't, it could go and it might take the whole display with it. That's a $300 part."
User safety is also a concern. "Over time, bolts work loose, cables start to fray," continues Carr. "If these things aren't checked, somebody could get hurt."
6. What kind of service maintenance contract is available? Facility operators who prefer being assured that if one of their elliptical cross-trainers breaks down, they won't have to wait another two months for it to be serviced, can purchase from their equipment dealers service maintenance contracts. Such contracts usually offer service response times ranging from 24 to 48 hours, although during the winter months - which, in northern climes, are generally accompanied by higher facility usage - facility operators may find themselves waiting a bit longer.
If his service technicians can't immediately respond in person, Barbee at least has them make telephone contact. "Customers always like to see 24-hour onsite response times, but that's pretty hard to do," he says. "We like to say that we can provide a voice response within 24 hours, whether that means helping diagnose the problem over the phone or ordering parts for the job."
And the better connected an equipment dealer is to local or regional parts distributors, the quicker a facility's out-of-service equipment can be back up and running. "We recommend that your service maintenance provider be the same as your dealer, because the technicians are more familiar with that particular type of equipment," says Barbee. "Someone who doesn't sell those products often doesn't have as good a relationship with parts manufacturers, so he can't expedite shipments, and the customer loses out."