The Olympic debut of women's wrestling could jump-start the sport at the prep level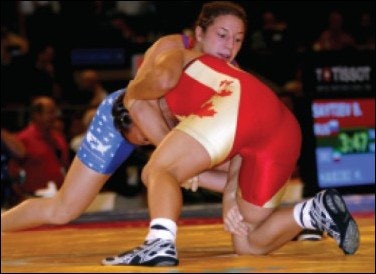 New York City Mayor Michael Bloomberg declared the last full week in June as "United States Olympic Team for Women's Freestyle Wrestling Week." It may have been a mouthful, but it was also a long time coming.
While wrestling ranks among the world's oldest sports, female wrestling has only been around in an official capacity for about 20 years. The inaugural women's wrestling world championships were held in 1987, with the United States fielding a team for the first time in 1989, demonstrating that females of any size could participate in the sport and boosting participation at the youth and high school levels. This month, women's freestyle wrestling debuts as the only new medal event at the Summer Olympic Games in Athens, Greece.
Bloomberg's proclamation came as the U.S. team began a pre-Olympic training camp at the di Silvestri Wrestling Center at Staten Island's Monsignor Farrell High School. That the historic event was held at an interscholastic facility is significant, considering that USA Wrestling, the sport's national governing body, is counting on America's high schools to bolster the country's future competitive presence on the international stage.
"We have a great elite-level team right now, and we should do well at the Olympics if we perform to our capabilities," says U.S. women's wrestling coach Terry Steiner. "But if we don't get going with our development at high schools and colleges, we won't be here for long. Canada has 19 colleges that have women's wrestling, and almost all of the high schools in that country have girls' wrestling."
By comparison, just six U.S. colleges offer varsity women's wrestling programs, and Hawaii and Texas are the only two states to sanction high school girls' wrestling championships. However, at least 32 other states reported schools with girls participating on interscholastic or club wrestling teams (most often with boys) during the 2002-03 school year, according to the National Federation of State High School Associations. The 3,769 female wrestlers the NFHS counts at the interscholastic level is up from about 200 in 1991 - although USA Wrestling officials claim the current number is closer to 5,000.
While Patricia Miranda, Tela O'Donnell, Sara McMann and Toccara Montgomery - the four women wrestlers who will represent America in Athens. - may not be household names, their performances could give the sport a jolt similar to the one received after U.S. wrestler Dan Gable convincingly captured the Gold in the 1972 Olympics. But USA Wrestling officials bristle at a comparison to the U.S. women's 1999 World Cup victory in soccer.
"We're going to get a bounce from the Olympics, but comparing women's wrestling to a team sport like women's soccer isn't fair. That's setting up false expectations," says Gary Abbott, director of communications and special projects for the organization, who himself was inspired to take up the sport after Gable's dominating performance in Munich, where the wrestler didn't surrender a single point. "Women's soccer had a solid base before the World Cup. Wrestling is a sport that fights for coverage."
Traditionally, the only interest wrestling generated among girls was reserved for coaches' daughters and wrestlers' sisters. "They fell in love with the sport, not by choice but because they were around it," Steiner says.
Because of the physical differences between teenage boys and girls, it's difficult for girls to compete successfully against boys. It can also crush a boy's confidence if he gets pinned by a girl. But when girls practice and compete against girls, there is greater opportunity for success and enjoyment for all wrestlers, Abbott says. And, he predicts, when provided the chance to compete on an all-girls team against other all-girls teams, the number of females who will give the sport a shot will increase exponentially.
"Alot of girls may not even be aware that this is something available to them," says Mark Cousins, assistant athletic director for the Texas University Interscholastic League, who nevertheless says that more than 160 schools are expected to field girls' teams in that state during the 2004-05 season - more than twice the number of schools that took to the mat in 1998, the first year the UIL deemed both boys' and girls' wrestling a championship-caliber sport. "Anything that can be done to raise awareness of the opportunities that exist has to be viewed as a positive thing," Cousins says.
While positive things are happening - there's talk of making girls' wrestling an official sport in California and Washington - Abbott says too many high schools are still waiting for others to take the lead. USA Wrestling, along with input from the NFHS and Shannon Williams-Yancey, a former national wrestling champion and now girls' wrestling coach at Thousand Oaks (Calif.) High School, offers tips via its web site (www.themat.com) for starting an all-girls interscholastic wrestling team.
Creating a team often requires changing the mind-sets of coaches, athletic directors and other administrators. To do this, the person spearheading the effort must believe what USA Wrestling preaches - that wrestling is a fun, healthy and rewarding sport for girls. Once the administration backs a girls' wrestling program, which can be run effectively at little added cost, it's crucial to gain the support of the school board, student-athletes, parents and even surrounding communities. Contacting other schools to set up competitions or encouraging them to start teams will help ensure a long-term program. "We're seeing both boys' and girls' wrestling programs growing," Cousins says. "At some point, the girls could even catch up to the boys."
In an effort to demonstrate its commitment to girls' wrestling, officials at the Arlington (Texas) Independent School District, where all six high schools now sponsor squads, searched the country to find teachers who are also enthusiastic about and dedicated to coaching girls' teams.
In many high schools, including those in Arlington, girls train with boys even if they are on separate teams. As expected, that situation can be dicey. "Girls wrestling with boys is a little different than girls playing football with boys," says I.C. Little, athletic director for Arlington ISD. "Wrestling is more of a hands-on sport, where you have coaches demonstrating moves on the kids. We don't have any female coaches, so the men will show the girls some handholds. But there are some places they won't go. Let's leave it at that."
Little says girls' team coaches will use a male team manager or a boy wrestler to demonstrate the techniques they feel uncomfortable teaching girls in a hands-on capacity.
Other coaches have also initially struggled with the concept of coaching a full-contact female sport. "At my first practice, I was showing technique, and I was thinking, 'Do I touch them here? Do I touch them there?' " recalls Steiner, an assistant men's wrestling coach at the University of Wisconsin before taking over the women's Olympic program. "And I left that practice thinking, 'You know what. I'm the one who's uncomfortable. They've been wrestling with guys forever.' I just made up my mind right then: They're athletes. If I need to show technique, I need to show technique. I'm not treating them any differently."
Today, Steiner concerns himself with more pressing issues, such as ensuring that women's wrestling continues to evolve. "This is all about changing attitudes at the grassroots level," he says. "Women's wrestling is not accepted or respected by the mainstream public, let alone within its own sport. We have coaches who just don't agree with the concept. But if we can teach a girl to be a doctor, a lawyer or a scientist, why can't we teach her to wrestle. Why do we want to limit that to half the population?"