The NCAA's proposed ban on male practice players draws widespread criticism.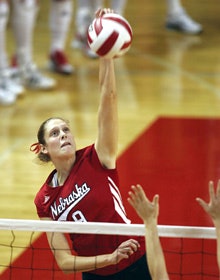 Sarah Pavan is a female student-athlete with rare physical gifts. At 6 feet, 5 inches tall, the University of Nebraska junior would be the tallest individual on the Huskers women's basketball team - except that Pavan plays volleyball. In fact, she plays volleyball better than any other collegiate woman in the country, according to the American Volleyball Coaches Association, which named Pavan its 2006 player of the year after the outside hitter led Nebraska to the NCAA Division I championship in December.
Preparing to face a player of Pavan's caliber and court presence is never easy (she recorded 22 kills against Stanford in the title match), and it may become harder still if the NCAA's Committee on Women's Athletics has its way. On the eve of the volleyball tournament semifinals, the CWA issued a position statement calling for a ban on the use of male practice players in women's intercollegiate athletics, asserting that such use "violates the spirit of gender equity and Title IX." If adopted, the ban would revoke the right women's intercollegiate athletics teams have exercised for decades to recruit men to help replicate game situations on the practice court.
Title IX is believed responsible not only for fostering a dramatic rise in female sports participation, but steady improvement in the athletic performance of women, as well. Still, many observers feel that the best means for women to further develop their skills is by practicing against men. "If you want to get better, you play against individuals who are better than you are," says Beth Bass, chief executive officer of the Women's Basketball Coaches Association. "We fought for 30 years to have the opportunity to participate in athletics, and now you're saying that we have to fight for the opportunity to get better? This has the potential to erode women's athletics as we know it."
When introducing the position statement Dec. 13, the NCAA reported that only Division III had legislation on the table heading into January's NCAA Convention, but that "the other two divisions are still gathering information and feedback on the matter."
Meanwhile, feedback from outside the association came quickly and with apparent consensus. A headline above a Dec. 16 Washington Post column called the ban "a ludicrous declaration." Separate espn.com contributors labeled the NCAA's reasoning "wrongheaded," even "ridiculous," and the site's women's basketball blog became a minefield of F-bombs. Readers responding to a brief mention of the ban at usatoday.com did so with words such as "stupid" and "absurd."
Student-athletes and practice players past and present chimed in, too. Wrote one male Internet poster who claimed to have participated in University of Nevada women's basketball practices with his intramural teammates in 1978, "We did not hack, bully or intimidate. We played controlled ball much as an opponent would. The difference was height and speed of play. I'd like to think we helped them play a little better in their regular-season games."
"I love playing against men. They make us better," University of North Carolina point guard Ivory Latta told The Herald-Sun, which serves the Chapel Hill and Durham areas. Added Duke University guard Abby Waner, "I grew up playing against boys, and they grew to respect me as a player. That's a very self-fulfilling feeling."
Like today's players, Bass, who earned four letters in basketball at East Tennessee State University in the 1980s, believes she became a better athlete by competing against male players - starting in her childhood. "If I hadn't been able to play against the guys since I was eight or nine," she says, "I would have never had the opportunity to improve and, thanks to Title IX, get a scholarship."
Among the CWA's arguments for the ban is the preservation of practice playing time for female student-athletes, many of whom are recruited and offered scholarships on the promise of personal development. "The message to female student-athletes seems to be, 'You are not good enough to make our starters better, so we need to use men instead,' " according to the CWA position statement. "This approach implies an archaic notion of male preeminence that continues to impede progress toward gender equity and inclusion."
Not if male practice players are used properly and female student-athletes are rotated regularly, counters Bass, who has implored WBCA members to invite campus administrators to their practices to see for themselves. "Come to practice and watch the effective use of male practice players," Bass says. "If male practice players are used properly, female student-athletes are going to get more touches, they're going to be in more game-like situations, and they're going to be learning their own system." Indeed, male practice players are often expected to learn an opponent's offense and run it during scrimmages, sparing actual team members the distraction.
Obviously, most basketball coaches - an "overwhelming majority," according to WBCA survey data - see clear advantages to incorporating men into their practice plans. "Their quickness and size are the things that help us most," Rene Portland, who has coached the Penn State University women's basketball team for 27 years, told The Daily Collegian student newspaper, adding, "They understand the game."
Sean Fitz was an all-conference men's basketball player at Penn State-Mont Alto before transferring to the University Park campus. The 6-foot-4 senior told Daily Collegian writer Mark Viera that his nose has been bloodied more than once while practicing against the Lady Lions: "They pound on you, and they expect you to pound them back. There's no taking it easy."
In volleyball - a non-contact sport in which scholarship limits, roster sizes and specialized player positions make cobbling together opposing scrimmage squads difficult - men are increasingly relied on to plug holes on the practice court. "Males have been used in spot situations in the volleyball practice gym for many years," says AVCA executive director Kathy DeBoer, who coached at Ferris State and Kentucky, "but never to the point where you have a whole bunch of women standing on the sideline because the guy is practicing. That guy may be the middle blocker who helps round out your scrimmage team." Or the rare 6-foot-5 outside hitter, sparing the coach from having to hit balls at his or her defense while standing stationary atop a box. "That doesn't simulate the movement of the game," DeBoer says. "So that may be the one day that week that you have one of the players from the men's club team come in and be Sarah Pavan."
The Committee on Women's Athletics first addressed male practice players in 2004, and the issue has been simmering ever since, according to the WBCA's Bass. Though the CWA's motivation for introducing a position statement at this time is unclear - committee and NCAA representatives did not respond directly to AB's interview requests - Bass believes it may be the result of isolated student-athlete complaints. "We still believe that reason is going to win here," she says. When asked if the quality of women's intercollegiate athletics will noticeably suffer if the ban becomes reality, Bass adds, "Over time, it will."
The NCAA did offer, via a Dec. 19 e-mail, the following statement attributed to Joni Comstock, the association's senior vice president for championships: "The issue regarding the use of male practice players is working its way through the NCAA governance process at various levels. There is no clear consensus yet, and the discussion is energetic. The Committee on Women's Athletics has made its position known, as have others. We will simply have to follow the debate and see what consensus emerges."
Given the energy unleashed in December, it is likely that any consensus will require substantial compromise. One already proposed at the Division III level (but referred to a subcouncil for further study) would limit the number of practices using males and the number of males used at any given practice.
DeBoer says she is open to the modified use of males in practices, just not their complete elimination. The same goes for Bass. "We don't want to just stomp our feet and say, 'This is ludicrous,' " Bass says. "Let's have the conversation. We're glad the dialogue is happening, and we want to be part of it as an association. But we're not backing off one inch from our position that we're talking about the coaches' classroom, and that the use of male practice players is a very critical part of teaching and growing our game."