Earthbound versions of Quidditch are popular with kids of all ages.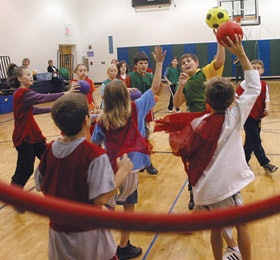 Little did Jodi Palmer, a physical education instructor at Windermere Elementary School in Upper Arlington, Ohio, realize back in 2001 the effect Harry Potter would have on her career. While she was chaperoning her son's third-grade class trip to see the movie "Harry Potter and the Sorcerer's Stone," young Cody leaned over during the Quidditch scene - a polo-style game played on flying broomsticks by students of the Hogwarts School of Witchcraft and Wizardry - and whispered in her ear: "Mom, that looks really cool. We should play that in gym class."
"I just laughed and said, 'Oh, yeah. I'll get my flying brooms out,' " Palmer recalls. But later that night, she and Cody sketched out rules that would bring Quidditch down to earth. She then involved Cody's third-grade teacher, who invited students to write down their own ideas for the game. Within two weeks, a new physical-education activity had materialized out of pure imagination.
Since she posted the rules to Quidditch on the health and physical education web site pecentral.org in November 2001, they have been accessed more than 59,000 times - with plenty of those hits no doubt coming in anticipation of "Harry Potter and the Order of the Phoenix" (the franchise's fifth film, which opens July 13) and Harry Potter and the Deathly Hollows (the series' seventh and final book that lands in stores July 21).
Familiarity with Quidditch, as portrayed in the movie or book, is beneficial to understanding Palmer's rules of the game, which involves two teams consisting of players assigned to specific duties ("chasers," "beaters" and "seekers" - the latter being Harry Potter's position). The chasers try to score points by throwing a small NERF ball (the "quaffle") through one of three hula-hoop goals hanging vertically from basketball standards at either end of the gymnasium while avoiding four to eight dodge balls being tossed at them by the beaters. A goal scores 10 points. Eventually, the "snitch" - a small bouncy ball (it has wings in the book) - is released by the instructor, and only seekers can go after it. The first seeker to retrieve the snitch scores 20 points, and the first team to 150 points wins. (For complete rules, as well as playing variations, visit pecentral.org and search for "Quidditch.")
"When you put it on paper, it looks really intense, and I've had people tell me that there's no way third graders can do this," Palmer says. "Well, it was invented by third graders. The beauty of creating a game with kids is that they're going to pull things that they know from their own experiences. With this game, you'll see parts of many other games - including tag, football and soccer."
The game encourages teamwork as it sharpens individual participants' throwing, catching, chasing, problem-solving and strategizing skills, Palmer says. It also offers roles for everyone, so that no child is left sitting on the bleachers.
Since creating her earth-bound version of Quidditch, Palmer has become semi-famous. She says she has no idea how many colleagues are using her game in their classes, but she has received phone calls and e-mails from teachers all over the world, and her rules have been translated into several different languages.
But elementary-school children aren't the only people playing real-world Quidditch. Palmer says the game also can be adapted for and appeal to older kids, and she has taught Quidditch to members of a Harry Potter club at Upper Arlington High School. Meanwhile, groups of Middlebury College students play the game using a human snitch and with brooms between their legs (a nice touch, Palmer says), and the second annual Middlebury College Quidditch World Cup in December drew 60 players on five teams. Students at Bucknell University and Vassar College also use Middlebury rules in their respective games. There reportedly are a handful of colleges and universities that even teach Quidditch as part of their physical-education curriculum. "We are the first college students who grew up reading Harry Potter," Middlebury sophomore Alexander Benape told The Wall Street Journal late last year. "It's very much a book of our generation."
Palmer, who has taught P.E. for 10 years and serves as the K-12 health and physical education teacher leader for the Upper Arlington School District, hasn't received the nod of approval from Potter creator J.K. Rowling. But because she is not making any money from Quidditch, Palmer is not worried. After all, it's not the first game she has created based on pop-culture phenomena; some of Palmer's other class activities revolve around "Finding Nemo," "Jurassic Park" and "Titanic" themes. "As the years go by, I do start to notice that kids are kind of clueless about where the games came from," she says. "But if the game is fun, I can keep it going forever."