Females still swim and dive competitively in larger numbers, but males are narrowing the gender gap.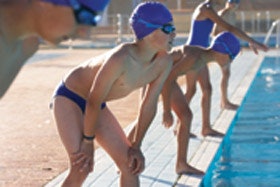 In perhaps the greatest individual athletic performance of the year, American swimmer Michael Phelps won seven gold medals at the FINA World Championships in March. But because Phelps claimed his hardware - and five world records - in Melbourne, Australia, and not Beijing, where next summer's Olympic Games will be staged, chances are you didn't know about it.
"A goal of mine is to have swimming not an every-four-years sport," Phelps told msnbc.com contributor Mike Celzic in November while on an Olympics promotional tour. "We train every day of the year and have competitions around the country and the world all the time. I want to raise the bar, get new faces involved, make it more exciting."
Getting new faces involved in swimming, particularly those belonging to males, has been a widely shared concern within U.S. swimming circles over the past decade. As recently as 2001, USA Swimming's Splash Magazine ran the headline, "Boys in Speedos: A Fading Breed?" "It's a question a lot of us are asking," Mark Daum, head coach of Five Star Swim Club in Lititz, Pa., and the women's coach at Millersville University, told Splash correspondent Tom Slear. "Where have all the boys gone?"
Females have long taken to competitive swimming and diving in greater numbers than males, particularly among younger age groups, and theories as to why that is abound: from racing-suit-induced self-consciousness among boys to their feeling of isolation and intimidation in coed practices during which they are not only outnumbered but outperformed by more physically mature girls. Says John Leonard, executive director of the American Swimming Coaches Association, "Little boys do not like to get their butts kicked."
Historically, boys have also had more and higher-profile athletic participation alternatives from which to choose, and their long-term allegiance to swimming may suffer as a result. "Once you start getting into the upper levels of competition, you can't duplicate the conditioning and training required of swimming anywhere else," says Becky Oakes, an assistant director of the National Federation of State High School Associations. "You need time and yardage in the pool."
"Boys swim for competition," Leonard says. "They'd prefer not to train if they didn't have to. Girls actually enjoy the training." But, Leonard adds, boys may not need as much training from a purely physiological standpoint. "Boys don't need to specialize as early as the girls do to be good swimmers," he says. "So what happens is you have boys who are doing a million things, girls who are doing a half-million things, at a relatively young age. By the time they're in high school, the disparity in swimming numbers closes a great deal."
Of the sports catering to both genders and sponsored by at least 6,000 U.S. high schools in 2006-07, none saw more skewed participation numbers than swimming and diving. According to NFHS survey data, boys occupied a mere 42.3 percent of the prep talent pool last season. But compare that to seven years ago, when girls outnumbered boys by a 61.5-to-38.5 margin, and it becomes clear that the participation tide is turning.
Boys have narrowed the gap at the club level, too. In 1999, USA Swimming hit an all-time low in its percentage of boys participants, at 37.2 percent. By last season, though, the percentage of boys club swimmers had climbed to 41.6. "That's the best percentage we've enjoyed since the mid-'80s," says Pat Hogan, managing director of USA Swimming's club development division. "We're encouraged and pleased by the progression."
Participation numbers within the collegiate ranks are somewhat less inspiring for males, however. While at least 10,000 women have participated in NCAA swimming and diving during nine of the past 11 seasons for which data is available (peaking at 11,011 in 2005-06, the most recent year on record), men's numbers have hovered in the mid-7,000s after peaking at 9,050 in 1995-96. Men comprised 41.3 percent of all collegiate swimmers and divers in 2005-06, whereas the two genders flirted with a 50-50 split only 15 years ago.
While no one is panicking yet about a lack of American male talent on the international stage, both genders would benefit from a shift away from the post-World War II emphasis on building pools predominantly in high schools, according to Mick Nelson, USA Swimming's facilities development director. "I think the pools need to go in elementary schools," Nelson says. "We have to teach kids to swim for safety purposes well before high school. In fact, we want every kid to learn to swim in the second or third grade. If a community is going to get a single pool, let's make sure it can be used all day long to the fullest advantage of the community. High school kids can drive and bus to the elementary school with a lot less confusion and logistical trouble than what's involved with getting elementary kids to the high school."
For now, the participation resurgence among young boys can be attributed to several things, says Hogan, a club swimming coach for 30 years. A newfound openness among coaches has let boys sample a variety of sports at an early age, as opposed to forcing them to make difficult choices. Also, some coaches are making the extra effort to structure gender-specific practices, in which boys are more comfortable. Finally, there's the Phelps factor. "We've enjoyed the benefit of having some absolutely phenomenal male heroes in our sport over the past six to eight years - Michael Phelps, obviously, but also people like Aaron Peirsol, Ian Crocker, Ryan Lochte and Brendan Hansen - all world record holders, all people performing at the highest level of the sport," Hogan says. "I think having those types of role models to look up to has helped."