Rice University's Marching Owls Band often targets opponents with satire set to music, but who's to say what's appropriate?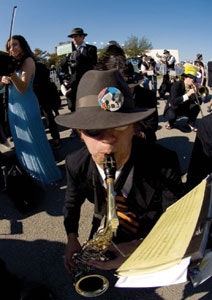 The Rice University Marching Owls Band is "not your average marching band," according to the MOB's web site, which adds parenthetically, "Probably because we don't march. Ever."
That's actually the norm for a so-called "scatter band," in which members literally run from one on-field formation to the next. It's what the MOB does while in formation that has set it apart.
Take the Nov. 24 football game Rice played against the visiting University of Tulsa, where the MOB staged a halftime show titled "Todd Graham's Inferno." During the routine, based on Dante's nine circles of hell, the band acted out the damnation of Graham for leaving the Rice sideline for Tulsa after the 2006 season - his only one with the Owls and one for which he earned Conference USA Coach of the Year honors. "Welcome to hell," the MOB's public-address narrator said, as the band broke into its signature song, "Louie, Louie."
The narrator then concluded the performance with a statement that would stir up another firestorm entirely: "You know, that reminds me of a joke: A priest, a nun and a rabbi walk into a bar. Now, I forgot how the rest of it went, but I think in the end Todd Graham is a douchebag."
Tulsa athletic director Bubba Cunningham promptly lodged a written complaint with Conference USA. "There's been a major emphasis - throughout the NCAA, but especially in Conference USA - on sportsmanship," says Don Tomkalski, Tulsa's associate athletic director for communications. "We're trying to provide an environment where student-athletes can participate in and fans can enjoy college athletics with sportsmanship in mind. We felt that that kind of entertainment was not appropriate."
Conference USA assistant commissioner for public affairs Courtney Morrison Archer says that the issue "has been resolved between the schools," and while Tomkalski adds that Tulsa wasn't necessarily expecting the league to punish Rice or the MOB, he expects that the episode may be discussed at future conference athletic director meetings.
Rice officials refused to comment on the incident, but they did release this statement from director of bands Chuck Throckmorton: "The Rice Marching Owl Band traditionally uses satire to enliven its halftime performances. We're sorry if the MOB's routine at the Tulsa game offended anyone. The band's intent was only to poke fun at a former Rice coach and to entertain."
The MOB's reputation for irreverence dates back to the early 1970s. During one show this past September, the band managed to lampoon two in-state rivals - the University of Texas (MOB members holding police car cutouts chased "Longhorn players" around the field to the theme from "Dragnet") and Texas A&M (the MOB PA announcer alluded to Reveille, the Aggies' collie mascot, being quarantined after biting its handler, saying that the dog's training "would no longer be outsourced to Michael Vick.")
"Our shows are closer to a comedy routine than any other halftime show you have probably seen before," states the MOB's web site. In reference to the Tulsa complaint, the site offers, "Never mind that Bubba (what an excellent name) was directly involved in the whole less-than-honorable departure of Graham from Rice; he has the moral authority to decide what is or is not adequate 'sportsmanship' at a Rice event. Of course, when a university files an official complaint against a band, it tends to raise some eyebrows."
In fact, the MOB site (mob.rice.edu) reported 20,900 visits from 16,100 unique IP addresses in November, compared to typical per-month averages of 8,000 and 4,000, respectively.
Other bands were among those taking notice. "We follow the other scatter bands whenever we can," says Adam Cohen, who in November ended his term as student director of the Stanford University Band, known for its own brand of controversial halftime humor. In 1997, the band was barred from games against Notre Dame for three seasons by then athletic director Ted Leland after a routine referenced the Irish Potato Famine and the Catholic Church. "Generally, our rule of thumb is that we try to be clever, rather than just straight up insult someone," Cohen says. "I can't speak to whether the Rice MOB had a more interesting insult against the coach than 'you are a douchebag,' or even whether he is a douchebag to begin with. But we try to go for the more high-intellect joke. Also, we don't use that kind of language. There are kids at these games, after all."
In years past, a single athletic department representative reviewed in advance the Stanford Band's performance scripts, according to Cohen. Last year, following the lifting of a suspension issued in 2006 after band members vandalized an instrument storage facility, scripts were required to pass muster with a five-person review panel, a process that involved "too many people who think they know something about comedy giving us suggestions about how to make our scripts better," Cohen says. "I think that's going to decrease to about three next fall."
More traditional marching bands often lack even that much oversight. Says Dwayne Sagen, director of bands at Vanderbilt University, "It's part of holding a faculty position. Whether you're a science teacher or the band director, universities are set up to give you autonomy over your course. No one checks the exact script to see what we're playing each week. They just hire people who know and go along with accepted standards."
At Rice, Throckmorton and MOB staff members analyze audience reaction to routines and adjust the writing of future scripts accordingly. Yet, despite their director's statement of apology regarding "Todd Graham's Inferno," MOB members remain unrepentant. "If there's one thing we learned from this show, it's that Tulsa's athletic department is pretty damn hypocritical for whining to the conference office because of 'unsportsmanlike conduct,' " reads a passage on the band's web site. "If we learned two things, the other is that the word 'douchebag' is not quite as 'mild' a vulgarity as we had thought. Oops. I'm neither particularly proud that I uttered the word over a loudspeaker nor am I ashamed of it; after all, it was a rather succinct and accurate term."
The passage is signed, "the Douchebag Announcer."