Media trainer Keven Long helps student-athletes practice talking to the media.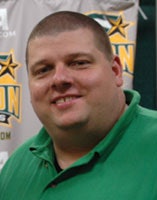 After nearly a decade of working as a congressional press secretary, Kevin Long found himself in Colombia as a U.S. Department of Defense communications subcontractor, teaching local military law enforcement personnel how to handle the media. While dining out one evening, Long watched a "SportsCenter" clip in which Kevin Garnett spoke about an NBA playoff game in terms of having "weapons" and "ammunition" and being ready to "go to war." "They were making a big deal out of his comments, because there had just recently been a school shooting. I turned to the guy next to me and said, 'I ought to go home and train athletes how to talk to the media,' " says Long, who has been doing just that for the past four years. "That's how MVP Sports Media Training was born - in a bar in Bogotá." To date, Long has visited more than 30 college campuses (and a few professional athletes), videotaping a dozen mock interviews in a day and critiquing individual performances. The role-playing "reporter" recently took time to answer a few of Paul Steinbach's questions.
Q: Did your work on the Hill translate to your current calling? A: Politics and sports are not that different. You're dealing with people who are generally very successful, at the top of their field, but it hasn't meant that they've had to deal with the media that much. Athletes practice their sport to get better at it, but they never practice talking to reporters. How can they expect to get any better at it if they don't practice? I use that logic with them, and it seems to really hit home.
Q: What are common mistakes made by student-athletes? A: One, they're not comfortable or confident in front of a microphone, because they don't think they know what to say. I tell them, "Look, you are the subject-matter expert. When you walk in, you know more about basketball than anybody else in the room, except maybe the coach or one of your teammates sitting next to you." The second thing they don't understand is that when they've said enough, it's enough said. Most of the time when athletes say something that is taken out of context or that they didn't mean to say, it's because they've answered the question and they continue to ramble on.
Q: Is there one interview setting that's tougher than others? A: I think the toughest challenge for an athlete or coach is the interview when they're walking off the field at halftime or right after the game, because they're wrought with emotion. You have to put yourself in a different mentality before you start speaking to reporters if you want to come through with the desired message and deliver it with some poise and grace.
Q: Who might serve as a media-savvy role model? A: The best, without a doubt - and he is levels above everyone else - is Tiger Woods. He's very competitive in everything he does, and I think he wants to be the best at doing interviews. That comes across in the way he prepares himself, delivers his comments and structures his answers to questions. I talk to student-athletes about his skills, but I tell them, "Look, he didn't get this way naturally. He learned it." I'm told he's done weeks and weeks of media training to get to where he is.