In a period of decline, inline skating searches for a second act.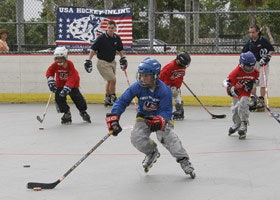 There's no spinning these statistics. After a spectacular rise in popularity, which saw 32 million Americans participate at least once in inline skating during 1998 (according to SGMA International), a mere 13.1 million engaged in inline sports at least once in 2006. With the National Hockey League's United States-based franchises in a similar period of decline in terms of fan interest, inline skating's drop-off has many people wondering if it has a comeback left.
Still, even if you no longer tend to see recreational inline skaters on the nation's sidewalks, inline hockey continues to enjoy pockets of popularity, and a number of state-of-the-art venues have been built to capitalize on this small but loud constituency.
"Participation has gone down a little bit, but we think it has stabilized," says Gary Del Vecchio, director of USA Hockey InLine. "It'll never be on an upswing like it was in the mid-'90s, but there's been a swell of city-run outdoor inline programs, especially in New Jersey-Pennsylvania-New York in the northeast, Florida and Texas in the south and Colorado and California in the west. It's on a bit of an upswing."
On the front lines, the outlook is more uncertain. Brandi Merkel, vice president of Redding Hockey, a nonprofit youth organization in Redding, Calif., says a public-private brouhaha three years ago - the city-funded construction of a new full-size inline rink split the hockey community between those attracted to the new facility and those loyal to the old, less-than-full-sized private rink - is partly responsible for denting inline's popularity there. But also, she notes, inline hockey has "a gear issue" that prevents more families from making an investment in the sport.
"I would have so many kids out there playing if it weren't for that," Merkel says. "I run a sneaker hockey program at an outdoor city park, where they don't have to have all the gear, and I get huge participation. It's when they cross over and have to buy the $200 skates, the $100 stick, that I can't get the parents to commit to that big of an investment."
Ryan Justis, adult athletics coordinator for the town of Parker, Colo., recreation department, calls inline hockey "a much more cost-efficient route" to hockey than ice for parents and kids. At the same time, however, lacrosse participation on the Front Range has skyrocketed, lacrosse being a sport that tends to attract the same demographic - and the town's year-old, 100,000-square-foot Parker Fieldhouse accommodates both sports.
"Our facility offers them choices, so inline is sort of a victim of our success," Justis says of the field house, which includes an indoor inline rink and three outdoor rinks, in addition to a full-size synthetic turf field, two full-size gymnasiums, a fitness loft and a track. "Our league fee is $80, which is certainly more expensive than basketball, volleyball or soccer. But it's not a limiting factor the way ice is for some families. We have seen our numbers shrink, but so have most recreational inline programs with the explosion of private leagues and more competitive outlets. Our numbers are still pretty healthy."
Mary Colton, assistant director of programs for the department, can second that. Kids as young as 4 take part in inline programs at the field house, and this spring there will be eight teams for fifth and sixth graders serving approximately 100 players, three seventh- and eighth-grade teams, four high school teams, a raft of adult teams and even a pro team, the Parker Prowlers, which practices at the facility. There's also a large drop-in program, where people skate around and form pickup teams. "We're so heavily programmed that we don't have a lot of holes in our schedule," Colton says.
If there's one area of concern, it's that youth leagues haven't kept pace with adult participation, and the rec department's planned construction of a skate park nearby may exacerbate the problem.
"I'm wondering if that will detract from our inline drop-in use," Colton says. "Will the kids just go outside with their skates and skateboards, and drop organized hockey?"
Redding Hockey recently surveyed members at its web site to find out what sports they participated in, and in what seasons. "These are dedicated hockey families, and more and more we're losing them to sports like lacrosse that are not as expensive to play," Merkel says. "That's probably the main reason why our youth leagues are at their lowest participation level, and adult leagues are at their highest. But I noticed last season that my 8-and-under and 10-to-12 programs are starting to grow because the dads are really into it, and now their kids are starting to play."
Merkel did a radio advertisement for Redding Hockey, selling the inline program. She wrote an article for the local newspaper, did a few free demonstrations at schools and passed out 10,000 fliers. "We have to push hockey really hard to keep the numbers up," she says. "We have to sell a lot."
Colton finds the same is true in Parker. "Inline is still going strong, but it's a lot of work pushing the leagues and reaching out to previous participants, asking them to come back," Colton says.
USA Hockey InLine does its own outreach, too, with the current tack pointing out the number of NHL draft picks from the United States and Canada who have played inline in their career. "Unfortunately, there wasn't anything on TV or in the Olympics that people could look forward to," Del Vecchio says, characterizing the '90s as an opportunity missed. "People played it as a recreational sport only and didn't pursue it because they didn't have a college scholarship to play for or an Olympics to play in. But now the idea of inline as a legitimate sport seems to be gaining a little momentum."
Sparkling new facilities could help give it more legitimacy, but with much of the new building being done by public entities, other factors - such as servicing the entire spectrum of recreational pursuits desired by community members - come into play. Colton believes her facility's inline program is healthy because of how well it's run, of course, but in her view most any sports facility will attract usage just by being there. "I worked in a facility that had eight racquetball courts," she says. "Now, how long has racquetball been dying on the vine? Yet, if there are racquetball courts in a facility, you'll see them being used, because there are people who enjoy the sport still. I think you'll find that with inline, as well."
The mention of racquetball suggests an uncomfortable parallel. What if, Colton is asked, participation in her inline program begins to sag? One possibility already under consideration is the addition of futsal as a program offering that could share the inline rink if need be. But the truth is, Colton says, there could be a change in this brand-new facility either way, as the excessively high demand for its synthetic turf field - by recreational lacrosse, soccer and flag football players, as well as local sports programs that want to practice indoors - is forcing the department to consider expanding turf at the expense of inline.
"We don't have enough hours in a day to accommodate all the people who want to play soccer on our turf, both youth and adult," says Colton. "We have adults who want to play after the facility closes, after 11 o'clock - they would play into the wee hours of the morning if they could. That's not necessarily the case with inline. The reality is that down the road there might be a transformation from plastic tiles on the rink to turf, or maybe a rollout turf. We may have to make a decision about keeping that just an inline venue."