Internet photos of student-athletes in compromising circumstances present new challenges for athletic directors.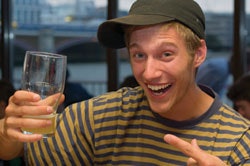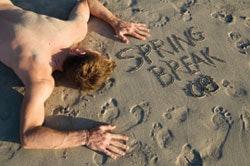 Whether combating the posting of non-action photographs of unsuspecting male water polo players on gay pornographic web sites or determining how to discipline student-athletes whose underage drinking exploits are chronicled on MySpace.com, athletic directors are discovering just how dramatically technology is affecting their supervisory roles.
"Athletic directors desperately need help," says Parry Aftab, an Internet privacy and security lawyer and executive director of WiredSafety.org, a nonprofit online safety and education community. "Now, in addition to making sure that their players stay sober and straight, athletic directors have to make sure kids are not hurt by bad guys online."
"It's sad, really," adds California State Rep. Cameron Smyth, a Santa Clarita Republican who filed anti-predator legislation after photos taken surreptitiously of swimsuit-clad water polo players at several Southern California high schools earlier this year were posted alongside those of other young males on sites with names such as boycollector.net - where they were subject to a plethora of lewd comments by site visitors. "This is the world we now live in."
It's a world in which California high school administrators were forced to scramble to provide additional security on pool decks and in the stands to protect their student-athletes from unwelcome lenses. Participants were encouraged to wear robes when out of the water, deck managers policed the pool area to ensure that no unauthorized photographers were present, and friends and family members were instructed to question photographers in spectator sections who appeared to be taking shots of boys who were not in the water. That said, the proliferation of cell-phone cameras makes singling out those individuals even more difficult.
"Technology is changing so rapidly, and the laws have yet to catch up. This is one of those situations where, when you explain to people what's going on, they can't believe that it's not already against the law," Smyth says about his anti-predator bill, which would make posting pictures of minors (obscene or not) on pornographic web sites punishable by up to one year in jail and a $5,000 fine. The legislation is working its way through the California State Assembly. "If you're a legitimate photographer, we're not trying to prevent you from doing your job. But if you want to sell those images to pornographic web sites, we're going to shut you down."
Athletic directors at no fewer than seven Chicagoland high schools have been struggling with what to do about Internet images of another kind. At York High School, for example, nearly a dozen student-athletes (including several starting football players) faced suspensions last fall after images of them at an underage drinking party were printed from a web site and given anonymously to the school's principal.
"It has raised student awareness that the Internet is not private and anyone can access it and see it," Briant Kelly, athletic director at Libertyville High School in Vernon Hills, Ill., told the Chicago Tribune.
Indeed, according to Aftab, student-athletes who frequent social-networking sites such as MySpace.com and Facebook.com often post photos of themselves and their friends engaged in code-of-conduct violations, and share details about themselves, teammates or opponents without realizing the impact of what they're doing. "Therefore, they cast a negative light on the school, the team and sports in general," she says.
Many schools have added Internet-specific clauses to their athlete conduct codes, and those that haven't should do so immediately, Aftab says. When developing such a clause, "just say what you're concerned about," she suggests. "You're concerned about the reputation of the team and the school, the safety of these kids, and their credibility, because they might do something stupid today that might affect their ability to get into a good college tomorrow."
Require student-athletes to read the clause and acknowledge it with a signature - "If the kids sign it, it's a contract," Aftab says - and explain to parents why such a policy is necessary. Enforcing that policy, however, may prove challenging for athletic directors. "If we have kids in MySpace pictures and they're holding a beer or whatever the case may be, they are punished," says John Szabo, athletic director at Bloomington (Ill.) High School and president of the Illinois Athletic Directors Association - although only a handful of individuals have been caught in the past two years. "That doesn't mean that they're not out there," he adds. "But we just don't have the kind of time to look at everyone's MySpace page."
Aftab is hoping athletic directors find the time to take advantage of WiredSafety.org's latest enterprise, a for-profit company called WiredTrust.com. Expected to launch in July, the site will provide customized and complementary newsletters focused on Internet risk management to employees in specific industries - including high school athletic directors. "It's a way of teaching the professionals who teach our kids how to keep them safer," says Aftab, adding that the networking sites popping up specifically for student-athletes by sporting goods manufacturers also require prudence. "This is tough for everybody to grasp. People are throwing their hands up in the air. The faster we can make athletic directors aware of what kids are doing and where the risks are, the safer kids are going to be."
But it's not just high school student-athletes who are at risk. Aftab cites stories involving illicit photographs of wrestlers in youth sports programs being posted on the web, too. "It's like throwing chum to the sharks, especially if you've got good-looking male and female athletes who aren't wearing a lot of clothes," she says, referring to sexual predators posing as interested spectators. "And the athletes have no idea how many slimy people are out there."
Indeed, Aftab and Smyth caution facility operators, sports administrators and coaches at all levels to be vigilant in monitoring what young athletes are doing in cyberspace and who is taking pictures at sporting events. "Even though these issues have a negative impact, they do act as points of awareness for parents, athletic directors and coaches," says Smyth, a father of two young boys and coach of their tee-ball team. "When my sons participate in athletics, I want them to focus on doing their best, not worry about whether someone is taking their picture. But now, everyone has to be on guard."