Triathlons for kids represent one of the sport's fastest-growing segments.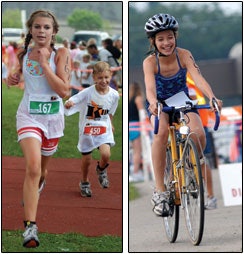 The Oregon (Wis.) Community Swim Club desperately needed a new fundraiser. "For many years, OCSC was selling lemonade at our local soccer tournament," says Deb Bossingham, parent of a 7-year-old club swimmer and aquatics director for the Oregon School District's pool. "It seemed there had to be a better way to promote swimming than to sell lemonade."
There certainly is. Next month, OCSC will host its third annual Oregon Kids Triathlon. As many as five hundred 5- to 17-year-olds (each paying a $33 registration fee) will, depending on their age, swim 50 to 200 meters, bike 1 to 5.5 miles and run 0.4 to 1.6 miles. Not only does the popular event promote swimming and generate dollars to help keep OCSC afloat, it also introduces kids to a lifetime sport that has gained greater mainstream acceptance since the days when only hardcore adults took up triathlon.
In fact, young people represent one of triathlon's fastest-growing demographics, according to USA Triathlon. But most of the action is taking place at the grassroots level, as local recreation departments, health clubs, sports performance-training facilities, Jewish Community Centers and private organizations either host triathlons for kids (often sanctioned by USAT, but not always) or partner with host groups to offer triathlon clinics and camps. Bike shops and other related businesses typically sponsor the events, and revenue generated from registration fees usually supports the host organization or area charities.
"As adults, we need to remember that swimming, riding a bike and running around are quite common activities for young kids," says Steve Kelley, athlete development director for USAT. "So putting the three together into a single sport is not strange to them and can be quite fun - particularly if the adults don't overemphasize the competition and focus on the satisfaction that comes with finishing a triathlon."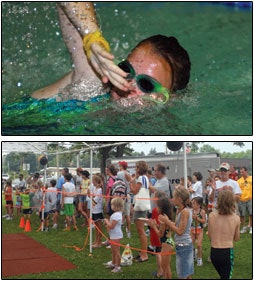 To that end, the more than 200 kids who participated in June's annual Ann Arbor (Mich.) Triathlon Club Kids' Triathlon received a T-shirt with the slogan "I TRIed my best" emblazoned on the back, and health-and-wellness education was an integral part of the day's festivities. "It gives kids an introduction to the sport," says race director Michael Wendorf. "For most of them, it's an opportunity to learn about what a triathlon is and participate in a safe, comfortable, encouraging environment."
All proceeds from the event - which was among the first of its kind a decade ago and one that now draws kids from neighboring states - are donated to Trail's Edge Camp, a Mayville, Mich.-based nonprofit organization serving respirator-dependent children. Some of the campers attend the triathlon to cheer on participants and reinforce the event's positive message.
While OCSC enjoys the support of local health clubs, which offer kids free or reduced-price training classes and volunteer staff time to work the triathlon, Wendorf hasn't been as fortunate. "When I went to people at my club with sponsorship ideas, they started laughing," he says. "They don't see how sponsorship can translate into people using their club. The really smart thing for them to do would be to participate in our raffle and give away three-month trial memberships that would get people in the door."
In addition to soliciting sponsorships, kids triathlon organizers must educate a sometimes-uninformed public about the sport. In Rhode Island, generating excitement for this year's inaugural SUPER Kids Triathlon in South Kingstown was tougher than race director Kathy Robbins expected. "It was rare that I would find a teacher or a parent who knew about the sport," says Robbins, a triathlete who produced video presentations and hosted parent information sessions to stir interest in the event, which was held in early June at a local elementary school and the South County YMCA. To strengthen ties with the community, she planned to donate revenue from the race to local organizations that supported her efforts.
Generating community enthusiasm may be the key to greater success. Officials at the Arthur M. Glick Jewish Community Center in Indianapolis - who were expecting as many as 400 participants in the organization's first kids triathlon, held on June 29 - say the goal isn't to solicit new members, even though special offers were made available to participating families that day. "The intention is to share our facility with our community while promoting the sport of triathlon and goal attainment," says Whitney Diggs, the JCC's director of fitness center programming.
That approach works well in Oregon, where Bossingham says that although the triathlon helps recruit new swim-team members, it also reinforces the values of fitness and camaraderie. "This has become more of a community event than just a fundraiser for OCSC," she says.