Youth sports leagues are playing hardball with parent volunteers.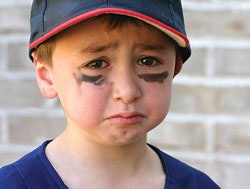 Jodi Hooper missed her volunteer shift at a concessions stand to punch in for the kind that pays her bills. But Hooper's decision to go to work while her son played Little League baseball in Freetown, Mass., ultimately cost the 7-year-old two games in May.
The league's policy of suspending players whose parents don't honor their signed concessions commitments came under immediate attack. "No baseball league should bench a 7-year-old because his mother has to work," opened a May 18 editorial at SouthCoastToday.com, a news site serving the state's southeastern region. The article went on to argue, "To punish his mother, the league engaged in the callous and repugnant humiliation of a child." An accompanying poll found that readers agreed that "it's a wrong-headed policy" by a 2-to-1 margin over those who responded, "Rules are rules."
However repugnant one finds them, such rules aren't all that rare in Massachusetts. Similar concessions policies exist in Fairhaven, New Bedford and Dartmouth, according to Freetown Youth Athletic Association president David Brouillette, who told reporters he felt unfairly singled out on the issue. Westport Babe Ruth League rules stipulate that a concessions-related bench suspension "requires a player to remain on the team bench, in full uniform, for the entire game." Moreover, the suspended child must sit and watch as his spot on the active roster is filled by a player from the league's next-lowest competitive division. (Westport parents may opt out of scheduled concessions duty by paying a fee, which this year has been set by the league's board of directors at $50 per child.) Meanwhile, the Hingham Little League leaves concessions stand coverage to individual teams, which must appoint at least one parent for duty for every game played by that team or suffer the consequences en masse. "Failure of a team to provide parents for their assigned shift may result in the discontinuation of the ongoing game or forfeiture of the game or next game that a team plays," according to requirements outlined by the HLL board of directors.
Massachusetts isn't the only state where leagues are playing hardball regarding concessions help, however, and volunteerism language is all over the map. The North Central Little League in suburban Milwaukee requires each participating family to pay a $50 deposit, refundable when four hours of volunteer service (including assigned concessions shifts) have been fulfilled and the requisite forms filled out. "This is not a buyout!" the league's site emphasizes. "We expect you to volunteer four hours of your time to help us give your child a quality program." In St. Joseph, Mich., the North Lincoln Baseball and Softball Association offers parents a $20 buyout option per concessions shift with three days notice. Each shift left uncovered will cost the parent $30, to be paid within 10 days, or the delinquent parent's child cannot take the field until it is. If money owed is not paid by the end of the 2008 season, parents will pay a $40 penalty or see their child denied registration for 2009.
In Freetown, Hooper told GateHouse News Service that she had not been provided with a list of league parents and was unable to find a replacement. In addition, she offered to work five alternative nights or make a monetary donation to the league. She said her protest, which she has taken to a local selectwoman, is not about her son, specifically, but rather about a rule that had already led to the benching of eight other kids. Brouillette told GateHouse reporter Jeffrey Wagner that concessions sales account for roughly $30,000 in revenue each year - money that helps maintain 15 "quality playing fields." Regarding the rule and its intent to spread the volunteer burden fairly, Brouillette said, "I don't know of any other way we can do it." He added that he was open to suggestions.
According to child psychologist Michael Bradley, the practice of punishing children for the actions of their parents should not continue. "It's an illegal contract. You're holding the child liable for what the parent is supposed to do," Bradley told ABC News. "What popped in my head: The poor kid sitting on the bench, not able to play, feeling ashamed and sad for something he had no control over. It wasn't his contract. It was the mother's fault."
"It's my fault. I get it. I really do," Hooper told ABC. "Being suspended means the child did something wrong. The child didn't do anything wrong. That's where I'm having an issue with it."