As coaches embrace more sophisticated recruiting methods, the NCAA braces for the next big thing.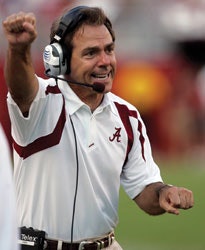 University of Alabama head football coach Nick Saban, whose legendary recruiting tactics have informally linked his name to NCAA legislation prohibiting head coaches from hitting the road to evaluate talent during a six-week period each spring (the so-called "Saban Rule"), nevertheless appeared on several high school campuses daily this past April and May. Current NCAA rules treat videoconferencing the same as a phone call (a coach may call a player once during the spring evaluation period), so Alabama assistant coaches could legally visit high school distance learning labs and help coordinate face-to-face exchanges between coveted preps and Saban - albeit via webcams and computer monitors. "This is opening another door for him," Athens (Ala.) High School coach Allen Creasy told The Birmingham News in April. "If you're not looking for innovative ways to push the envelope, somebody else is. That's what keeps the top guys on top."
The real competition in college football begins well before teams tee it up in the fall, and before the spring evaluation period even began April 15, Alabama could already boast this year's top-ranked recruiting class, according to rivals.com. As more coaches become as technologically savvy as Saban, the NCAA has had to review and sometimes recalibrate its recruiting rules accordingly.
Last year, the NCAA voted by an overwhelming majority to prohibit coaches from sending text messages to recruits, since many coaches saw in the popular communication tool a loophole. Existing NCAA legislation limited how many calls a coach can make to a prospect, but placed no limits on the number of prospect-initiated calls, so coaches targeted the recruits with text messages that read simply, "Call me." The practice became intrusive, and often expensive, for highly sought-after athletes. (See "No EZ Answers," November 2006, p. 141.) The new rule, which went into effect Aug. 1, is just one of many related to technology found within the nearly 50 pages that address recruiting in Article 13 of the NCAA Division I Manual.
Some argue that the NCAA is struggling to keep pace. "The NCAA historically is a year behind technology, at the very least," says rivals.com recruiting analyst Bobby Burton. "When it came to text messaging, they were several years behind. They need some sort of ad hoc committee that can make rules more quickly to deal with these issues."
According to Geoff Silver, the NCAA's associate director of membership services, the association accepts legislative proposals each year by a July 15 deadline. If adopted, the new legislation can be implemented as early as the following January, but an effective date of Aug. 1 (a year-plus removed from the proposal deadline) is more common. The NCAA arguably was proactive in terms of videoconferencing, with rules already on the books for 13 years by the time Saban started what many believe will be a trend. Says Silver, "This equipment is more available in high schools, so coaches are only now taking advantage of that technology and using it in the recruiting process."
One of the issues with text messaging was that it lacked the kind of paper trail of communication afforded by telephone records, thus making it difficult for compliance officers to track. Online social networking sites, with the anonymity of communication they afford, make tracking harder still. In 2006, the University of Kentucky self-reported to the NCAA the fact that fans acting independently but nonetheless as "representatives of the institution's athletic interests" had been contacting a prized basketball recruit through his MySpace page. Their verbal enticements were tagged with aliases, initials or first names only. According to NCAA spokesperson Stacey Osburn, coaches can have their own MySpace or Facebook pages, they just can't use them as direct communications vehicles. In fact, as of this past April 15, every form of electronic communication between coach and prospect - other than e-mail and fax transmissions - is prohibited. As for the Internet, one official within a Division I athletic department told SI.com, "You'd have to have someone on staff 24/7 to monitor it the right way - and the cost of that would be unbelievable."
"We focus a lot of our time and energy on monitoring recruiting issues and recruiting rules, and that is because approximately 60 percent of all violations are going to be in the area of recruiting," says Judy Van Horn, president of the National Association of Athletics Compliance and an associate director of athletics at the University of Michigan, which employs six full-time athletics compliance officers. "That right there is a strong indicator of where we need to focus and prioritize our time and energy."
The high percentage of recruiting violations is not always the result of coaches behaving badly. "I think it's a combination of factors," Van Horn says. "I do think that there are recruiting violations that are the result of the proliferation of rules and incorrect understanding of how they're applied in certain situations. There are also those that result due to a coach's inadvertent sloppiness."
Burton, for one, would like to see fewer restrictions on coaches, not more. "I have a problem with the whole idea that college coaches are taking on these young men and being expected to be responsible for them, and they may only meet them two or three times before they sign them to scholarships," he says. "The more opportunities they get to know these kids and decide whether they want them to be part of their program, the better. They need more contact with kids to make better evaluations - not of their athletic ability, but of their personality."
"I think there's always that challenge to find a balance between allowing the coach to learn as much about a prospect as possible to ensure that he's a good fit for their program and institution, and also allowing the prospect to do the same, without creating a situation in which the prospect is inundated with recruiting information and thus negatively impacted," says Silver. "I would think technology is probably more of an asset than anything, in terms of allowing the prospects to get all the information they need to make an educated, well-informed decision on where to go to school. Our job really is to look out for them and make sure there are no unforeseen consequences coming out of that technology."
Technology is among the issues being reviewed this summer as the NCAA transitions into a new governance structure, according to Silver. A new recruiting cabinet, which will replace the old NCAA Division I Academics Eligibility Compliance Cabinet Subcommittee on Recruiting, will "take a look at our recruiting legislation to see how we might be able to be more proactive in addressing the inevitable changes in technology and recruiting, rather than being so reactive as these issues come up. They come up quickly, and oftentimes it's the coaches who learn about them first because they're the ones engaged in the recruiting," Silver says.
"Just as technology is exploding in other fields, it's exploding in athletics, and I think it's difficult to be aware of everything that's out there," adds Van Horn. "But clearly we have to have our ear to the ground and be aware of what's happening."
Technology may be evolving every day, but the basic mindset driving coaches' embrace of it may never change. "Coaches and their staffs are going to push the envelope, period," says Burton. "They are competitive by nature. They are in a competitive business. Millions and millions of dollars are at stake, as well as their own livelihood."