A workout utilizing ballroom dance moves heats up as a group exercise alternative.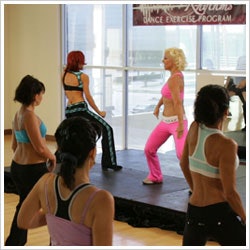 It's like "Dancing With the Stars," but without the stars - or any partners for that matter. One of the latest group exercise alternatives available to clubs is called Core Rhythms, a muscle-toning, fat-burning workout set to salsa. Or samba. Or merengue, if that's your thing. Not that stars can't benefit from the program. "DWTS" second-season champion Drew Lachey lost 12 pounds, burning more than 300 calories for every hour he danced the tango, according to a Core Rhythms media release.
Core Rhythms utilizes ballroom dance methodology drawn from the combined 34 years of professional dance instruction experience of its co-creators, Jaana Kunitz and Julia Powers. The result is a high-energy, full-body workout that strengthens core and abdominal muscles while sculpting legs, arms, buttocks and thighs. Three moves in particular (the core lateral, core flexion and core rotation) target the upper abs, middle abs, lower abs, obliques and back - all while the participant essentially dances. In fact, Arthur Murray instructors were among the first to become "Core Rhythms Certified."
Murray instructors joined Powers in leading roughly 40 participants through a demonstration at the International Health, Racquet and Sportsclub Association's annual trade show in March (not a bad turnout considering the class was held at 6:30 a.m. the morning after St. Patrick's Day). "Having taught dancing for so many years, I would often see people come in for a lesson in a bad mood and leave with a smile after releasing all their stress and worries," says Powers, a world champion Latin ballroom dancer. "They were happy because it was the only time during the day they were doing something for themselves and were staying in the moment. Your heart rate goes up, the adrenaline and endorphins are flowing, the music is exciting, you are having fun and doing something good for your body. Core Rhythms gives you all that."