Athletics has trailed the green movement on most campuses, but one researcher predicts the political climate is about to change.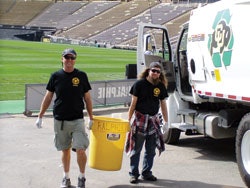 Green has become a third school color for a number of institutions in the NCAA's Football Bowl Subdivision. Florida State University rolled out its "Garnet and Gold Goes Green" recycling program at football and baseball games in 2005. The University of Tennessee claims the Good Sports Always Recycle™ campaign, part of its "Make Orange Green" initiative, is the largest stadium recycling effort in the nation. "Ralphie's Green Stampede" has established a goal of zero waste at all University of Colorado home football games.
But recycling is only a small part of any sustainability game plan, and a recent survey of FBS schools reveals that athletic departments are a step or two behind the aggressively green ambitions of a growing number of college and university presidents. As of May 1, more than 620 presidents had signed the American College & University Presidents Climate Commitment, pledging to develop a plan that sets as its goal campus-wide climate neutrality. Despite the fact that 61 of the 119 presidents who serve FBS schools have signed the agreement, 79.3 percent of respondents to the 2009 NCAA Athletic Department Sustainability Survey, half of whom identified themselves as assistant or associate athletic directors in charge of facilities, didn't know whether their president's name was among the signatories. This apparent disconnect is indicative of athletic departments' relatively slow warming to the idea of sustainability.
But the political climate on campus is destined to change, predicts survey author Mark McSherry, a Harvard University graduate student who holds a Master's certificate in sustainable design from Boston Architectural College. "The presidents are committing to this," he says, "and it's going to be up to the people in mid- and upper-level management - including athletics administrators - to make it happen."
McSherry's survey results reveal that most respondents feel their university as a whole places a high priority on sustainability initiatives, but that such efforts receive only moderate priority within the athletic department. A majority (53.1 percent) of respondents (97 answered some or all of 31 questions) say their athletic department has some environmental programs, but no environmental strategic plan. While six respondents report their athletic departments have assembled an environmental team (another 14 claim such a team is in the works), 71 say no such team exists within their athletic department. (A link to the complete survey accompanies this article below.)
And the environmental efforts in place may not be the most effective, according to McSherry. "It seems to me that recycling gets a disproportionate amount of attention and priority," he says. "No one is actually taking a step back and saying, 'What are our greenhouse gas emissions for the entire athletic department?' " Well, almost no one. Fewer than 10 percent of respondents indicated they measure the athletic department's greenhouse gas emissions, or were planning to do so (even more indicated they don't know). At least two-thirds reported that no measurement of GHG emissions is taking place in each of these department-specific areas: fossil fuel and energy use, employee commute, team and employee travel, fan travel to games, and vendor and food supplies. More than half of respondents answered either "I don't know" or "We don't know" when asked how much of the university's overall energy use (fossil fuel and electricity) is attributable to the operation of athletic department facilities.
Even recycling - the most popular green strategy among athletic departments due to its relative ease of implementation and visibility, according to McSherry - lacks sufficient measurement. Roughly half of respondents reported extensive implementation of recycling programs in office/training (white paper), office/training (cardboard), events (bottles and cans) and events (packaging/cardboard), but just as many admit to not measuring recycling rates or setting goals. That, more than any other survey result, surprised McSherry. "The presidents are saying, 'You have to reduce greenhouse gas emissions,' and people in athletics are spending a lot of energy on recycling programs," he says. "There's nothing wrong with that; it's great, as a matter of fact. But there doesn't seem to be sufficient planning. A fundamental step in planning is measuring. You can't manage it until you measure it."
Colorado is one school that appears to be managing quite well. More than 40 tons of recyclables and compostable material was collected at Folsom Field in 2008, the debut season of Ralphie's Green Stampede. That represented a 199 percent increase over 2007 and a diversion from landfills of roughly 80 percent of all waste generated at CU home football games, where trash cans have been completely replaced by recycling and composting bins. Some of the 14 tons of compostable food items and biodegradable materials gathered was used in landscaping projects on the Boulder campus, and more than 300 gallons of fry oil from food preparation was refined into biodiesel fuel for CU's bus fleet. "In our first year, we shattered all previous recycling records, drastically cut our sports events' environmental footprint and set the stage for continuous improvement toward a completely sustainable process," CU Environmental Center director Dave Newport stated in a university release. "Everyone worked incredibly hard to solve the inevitable startup issues and change the way we do business. It was enormously inspiring."
CU athletic director Mike Bohn has also announced plans to invest in local carbon reduction offsets to help match the energy consumed during stadium operations and team travel, measures that any school seeking climate neutrality will have to take, according to McSherry. "You can do everything possible to eliminate energy consumption and knock down your greenhouse gases by 30 or 40 percent," he says. "That still leaves 60 or 70 percent that you have to produce yourself or buy on the carbon credit market. Right now, carbon is going for $15 or $20 a metric ton. But as all these schools compete for that, what is going to be the price of carbon down the line? That's the big wild card."
Cost appears to be a leading factor in athletic administrators' cautious approach to sustainability to date. Nearly a third of survey respondents indicate a feeling that environmental programs would have a slightly negative impact on their department's bottom line, compared to 11.6 percent who anticipate a slight improvement and 4.6 percent who anticipate a significant improvement. (By contrast, McSherry's separate surveys of the four major professional sports leagues conducted last year found that pro team decision-makers are twice as likely to equate sustainability with profitability.)
McSherry, who conducted a fan survey last season for the Philadelphia Phillies and hopes to be the first sustainability director for a professional sports franchise, sees encouraging signs in his college survey, not only from the number of schools that participated, but also from the fact that 13 percent of responding athletic departments are planning to measure recycling rates and set goals, more than 15 percent are now actively considering development of a strategic sustainability plan, and more than 75 percent say that emphasis on environmental programs is increasing. Not one respondent sees that emphasis decreasing by any measure in the future.
When asked if he thinks his results would look different if he repeated the survey in five or 10 years, McSherry says, "They would be dramatically different - certainly within 10 years. We are on the verge of sustainability transformation within universities as a whole. If all these university athletic departments don't realize it yet, they're going to, because their presidents have signed this agreement and there's no getting around it. Visionary athletic departments won't just tag along but lead the way."