New Jersey sports administrators may have found a new way to level the playing field.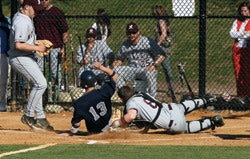 Last December, about a dozen athletic administrators from high schools in Essex County, N.J. - representing several sports conferences - gathered around the dining room table in Nutley High School athletic director Joe Piro's home. Their mission: To organize the 36 schools assigned by the New Jersey State Interscholastic Athletic Association to a new "super conference," in divisions based not on such traditional parameters as enrollment or geography, but on the athletic talent of teams in a given sport.
Thus, when the 2009 fall sports season begins, teams in the Super Essex Conference will belong to one of four divisions. But a school in, say, the strongest football division may be assigned to the bottom division in volleyball. Such bold categorization based on individual team performances is a major step for high school sports - and one that may become increasingly common as more state athletic associations grapple with the complications of realigning leagues and conferences.
"I'm not going to say that we're revolutionizing scheduling," says Piro, one of the driving forces behind the SEC's four-division structure, which was finalized in June. "I think what we did do, though, was embrace change. We recognized that there was a competitive imbalance, not only between public and private schools but within some of the public school programs."
Last fall, after the NJSIAA's membership voted narrowly to defeat a proposal that would have separated athletic teams from public and private schools entirely, the state association approved a major realignment of leagues and conferences, affecting more than 200 schools in the central and northern parts of New Jersey. NJSIAA officials cited the need to address long travel distances and lopsided competition. As a result, five super conferences were formed based on geography, with the schools in those conferences in charge of creating their own divisions.
Private schools still make up part of the SEC, and while the conference's structure doesn't solve the disparity between public and private schools, it does alleviate some of the pressures of having a weak baseball team play a powerhouse such as West Orange's Seton Hall Preparatory School simply because they have similar enrollments.
Piro stresses that the SEC - whose divisions will be adjusted every two years to account for teams that either significantly improve or falter - will take the most competitive programs and provide them greater opportunities to succeed. Meanwhile, perennially poor-performing teams will have more chances to experience the thrill of victory. "Maybe we'll win five games in basketball this year, then 10 games next year," says Piro, adding that although Nutley will compete in the SEC's top division in baseball and softball, the Raiders will play in the fourth division in basketball. "The next thing you know, we might be competing for a division championship, and all of a sudden there's a buzz around the school building."
The Nevada Interscholastic Activities Association earlier this year considered a realignment plan similar to that of the SEC. Originally intended to take effect this fall, it would have converted the state's four-classification format into three divisions based on a school's collective athletic performance. "We were trying to cram 55 gallons into a five-gallon jug," NIAA executive director Eddie Bonine told the Las Vegas Sun, explaining why the strategy was recently tabled (though it could be reconsidered in time for the 2010-11 school year). "There still needs to be some tweaking here and there."
Those tweaks include figuring out how to ease the disappointment of schools that would move to a lower division. The football team at Del Sol High School in Las Vegas, for example, which has advanced to the Sunrise Regional title game for the past three years, would be relegated to one of two Division II levels because its teams struggle in other sports. "Kids aren't going to want to play for a school that is not playing top-notch competition," Del Sol football coach Preston Goroff told the Sun. "We want to play in the big games at Del Sol High School like we have in the past."
The remedy for such concerns is to break down divisions by sport, says Piro, who admits he lost sleep while contemplating the direction of New Jersey's SEC. "But let's be very clear about something," he says. "This is not an 'everybody gets a trophy, wussification of America' model. We didn't do it for those reasons. We have made a very competitive league."
Piro explains that Nutley's softball players didn't "get anything" out of beating vastly inferior teams by scores of 19-0 and 16-0 last season. Now those teams will be competing against more-evenly matched opponents, just as Nutley's softball team will play schools that the Raiders either lost to last season or beat by only a handful of runs. Plus, with new state-tournament qualifications that award post-season spots to teams with the 16 best season records in every sport (except football), some schools will make the playoffs for the first time.
No other super conference in New Jersey has followed the SEC's lead yet, but Rockaway's Morris Hills High School athletic director Rob Harak - who helped form divisions for the new Northwest Jersey Conference along more traditional lines - doesn't rule out the team-performance methodology and says he will be watching the SEC closely this year. "We felt that we needed to play each other first to determine a baseline of how teams stood against each other," he told Newark's Star-Ledger.
Piro welcomes the scrutiny, whether from a neighboring conference or a state in transition such as Nevada. "I'm hoping that all eyes are on us to see how this works," he says.