Wichita residents enjoy conditioning and camaraderie during rigorous workouts in Steve Rainbolt's Shocker Fitness program.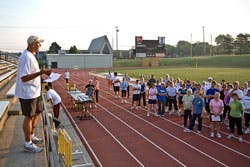 Photo of Coach Bolt speaking to Wichita community residents
Call it fitness camp for adults. "Shocker Fitness with Coach Bolt" involves Wichita State University track and field coach Steve Rainbolt opening Cessna Stadium at 5:30 a.m. three days a week and leading upwards of 100 community residents through a rigorous workout that includes calisthenics, stair climbing and sprints. For $45, participants get a T-shirt, camaraderie and quite possibly the best physical conditioning of their life.
"How often have you run 100 meters hard six times by yourself?" Rainbolt asks. "You just don't do it. Even fitness-oriented people don't do that; they go out and go for a run. But to do six 100-meter sprints is, first of all, extremely good for you in terms of fitness benefit. Second of all, you just wouldn't do it without a group of people to do it with."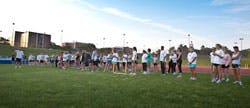 Participants of The Shocker Fitness Group range in age from middle school kids to 70-year-olds
The Shocker Fitness group ranges in age from middle school kids to 70-year-olds. If sprinting is too rigorous, Rainbolt encourages brisk walking or jogging for 100 meters. "I tell the people, 'We're going to build some intensity into your exercise program, and I'm asking you to embrace it, treat it like play, have fun with it and start to enjoy running 50 meters hard. It's something you did as a little kid. Let's do it now and enjoy it.'"
Inspired by a 25-year-old community program in Lawrence, Kan., called "Dog Days Fitness," which draws hundreds of exercisers a day, Shocker Fitness got its start last fall. Five 10-week sessions are held per year, with this year's summer session drawing 180 participants, and the back-to-school session - at 130 attendees - nearly doubling in size from a year ago. Benchmark times are taken in the 400-meter and mile runs for newcomers, who are then timed twice more later that session. Nothing is recorded, but progress is celebrated on the track and during socials at sponsoring watering holes and coffeehouses in Wichita.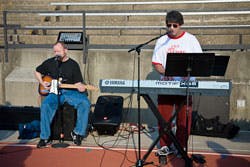 Photo of a band playing during a Shocker Fitness group event
George Nambo, who hasn't missed a single day of Shocker Fitness since it launched last Sept. 15, has lost nearly 60 pounds, according to Rainbolt. "Then there are ladies who'll say, 'You know, I haven't lost a pound, but I'm two sizes smaller in my jeans,'" Rainbolt adds. "In most cases, if somebody's had significant fitness improvement, they're probably doing more than just coming to Shocker Fitness. I know that George is preparing for a half-marathon in the fall, so he's going for long runs on other days. But I do feel like Shocker Fitness serves as a jumpstart for their fitness goals."
"I wouldn't be doing this on my own if it wasn't for all these other people," Nambo told Wichita CBS affiliate KWCH. "I think we kind of keep each other going."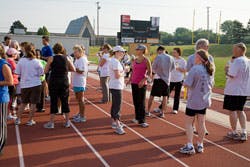 Photo of participants socializing during a Shocker Fitness group event
Rainbolt says he has assured Shocker Fitness regulars that he will keep the program going as long as he remains at Wichita State. He has even expanded it, building upon the pushups, sit-ups and bodyweight lunges performed during Shocker Fitness with ShocFitXtreme, in which a dozen pairs of individuals complete a training circuit in the WSU track-and-field weight room in less than 30 minutes. Thirty sessions cost $60.
After instructional help, insurance and T-shirt expenses are factored, Rainbolt makes enough money to supplement the WSU track-and-field program, as well as keep a little bit for himself. But his personal gains go far beyond the financial. "Before I started Shocker Fitness, my typical thing was to step out my door and go for a three-mile run," Rainbolt says. "And always I would tell myself, 'When I get back I need to do some push-ups and sit-ups and maybe some lunges,' but I never would. I'd go ahead and jump in the shower and go to work. But now, as a part of this group, I do all these resistance exercises and I'm more fit than I've been in years. I'm really loving it."