A parade of off-season DUI offenses has schools seeking new ways to combat student-athlete alcohol abuse.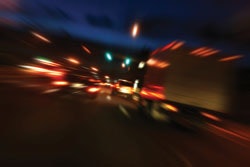 A college football career that only two years ago seemed poised to shift into high gear came to a halt, quite literally, in the drive-through lane of a Tallahassee, Fla., McDonald's. It was there, at 5 a.m. on a Saturday in January, that police found Florida State University junior wide receiver Preston Parker asleep behind the wheel of a red Dodge Charger - the engine running, the transmission in drive and Parker's foot planted firmly on the brake. A mix of alcohol and marijuana had impaired the one-time FSU offensive MVP, and police charged him with DUI. It was the junior's third brush with the law since 2006, and his last as a Seminole. Parker was subsequently dismissed from the football team.
The fate of former teammate Rod Owens was, as of this writing, less certain. Owens, a senior wide receiver, caught three passes in the Garnet and Gold spring game in April, then caught the attention of a Tallahassee police officer who noticed Owens driving a white Nissan Altima without its lights on at 4:30 a.m. the following morning. A breath test revealed Owens' blood alcohol level to be .155, nearly twice the legal limit in Florida. He was suspended indefinitely by coach Bobby Bowden but allowed to work out with the team as he faced the likelihood of missing FSU's opening game against Miami.
A parade of DUI offenses swerved on through much of the spring and summer. Football programs impacted included those at Illinois, Penn State and Boise State. North Dakota State saw four football players charged with DUI inside of six months.
Coaches everywhere may feel both excitement and relief as their seasons begin this month. Recent research confirms a long-held suspicion that student-athletes, already known to drink more than their non-athlete peers, tend to binge drink to greater degrees between seasons. "The college athletes in our sample engaged, on average, in relatively moderate drinking during the competitive season, but drinking rates went up considerably during the off-season," says Matthew Martens, associate professor in the Department of Educational, School and Counseling Psychology at the University of Missouri, who helped conduct separate in-season and off-season surveys with the same group of athletes representing all sports at a single Division I institution (survey results were published in 2006 in the Journal of Sport & Exercise Psychology). "The rates roughly doubled, from somewhere around eight drinks per week during the season, which is right around the national average for college students in general, to about 14 drinks per week during the off-season."
NDSU officials are quick to put their situation in another context. According to the 2009 National Survey on Drug Use and Health conducted by the federal Substance Abuse and Mental Health Services Administration, North Dakota leads all states in binge and underage drinking. Forty percent of North Dakotans between the ages of 12 and 20 reported having at least one drink during the previous month. More than 58 percent of individuals of college and recent-graduate age (18 to 25) reported consuming five or more drinks in one sitting - the accepted definition of binge drinking.
According to NDSU's own biennial surveys, students' high-risk behaviors related to alcohol consumption appear to be on the wane, but room for further improvement clearly remains. In the latest survey, released in April, only 1 percent of the general student body reported having a DUI arrest on their record (down from a high of 3.7 percent in 2005), while nearly 30 percent admitted to driving while intoxicated (down from a high of 48 percent in 2001). Campus officials intended to roll out a strategic plan for dealing with alcohol and other drug issues during president Joseph Chapman's state of the university address, to be delivered in the run-up to NDSU's Oct. 3 homecoming, but media attention garnered by the football player DUIs prompted the plan's release July 22. "It's a serious issue," says Chapman, who has addressed alcohol use on campus throughout much of his 10-year presidency. "We used to get this sort of 'boys will be boys' thing, but that's not what this is about. This is about life-altering choices. As an educational institution, we have an opportunity and an obligation to shape how young people view these high-risk behaviors."
The athletic department - which already provides an educational program on alcohol and other drug use for first-year student-athletes, as well as mandatory first- and second-semester drug and alcohol seminars for all sports participants - has implemented two new programs this fall. One, called myPlaybook, is an online educational tool designed by a former collegiate athlete to demystify NCAA drug policy. The system saw success among Division II student-athletes last year and, with the NCAA's endorsement, is now gaining traction in Division I (the entire Southern Conference has adopted it). The other program, called BASICS, is a nationally recognized counseling program for students at high risk for alcohol-related problems. It will be piloted with the NDSU football team, with potential rollout to additional sports teams in the future. "I think the point that gets lost in this is that there are a good number of student-athletes who don't drink at all or drink in really low-risk ways, and they get lumped in with all these others," says NDSU Office of Orientation and Student Success director Laura Oster-Aaland. "We're trying to identify which ones are prone to this kind of drinking, intervene with them early through counseling sessions and then ask our coaches to set in-season and out-of-season expectations."
When asked if the university's educational efforts could be better timed to coincide with the onset of the off-season, Gene Taylor, believed to be the only athletic director in the nation to chair a campus-wide drug and alcohol taskforce, says he's looking into greater year-round interaction between NDSU football coaches and their players. "There's really not an off-season anymore for kids, because they go from football to significant weight training starting in January," Taylor says. "But the coaches will hit the road recruiting in January, and they're not around as much. I think the one thing we'll probably look at is what kind of regular communication with 100 guys our football coaches can have in the time they're off campus."
Other schools have sought to close the mentoring gap. Last year, following a rash of player citations and arrests that included drunken driving, the University of Iowa football program created the position of director of player development, and filled it with respected Hawkeye alum Chigozie Ejiasi. But that didn't prevent freshman defensive back Shaun Prater from being charged with DUI this past March. Police reports indicate that Prater, who registered a BAC of .127, told officers a bartender "must have put alcohol in his Coca-Cola."
According to Florida State offensive coordinator Jimbo Fisher, Bowden's heir designate, it's the inevitable handful of "knuckleheads" that come with any 100-man roster that FSU is targeting with a new program that assigns upperclassmen football players to serve as behavioral examples for at-risk freshmen. "You've got to identify those guys and you've got to build a support system around them and you've got to show them how to do things right," Fisher told the St. Petersburg Times in July. "You can't just say, 'Do it.' You have to find a way to change the way they see the world."
While there's no greater eye-opener than dismissal from a team, discipline in player DUI cases often amounts to little more than a one- or two-game suspension. And deterrents alone - no matter how detailed in student-athlete handbooks or emphasized in team meetings - aren't necessarily enough to alter behavior, according to Martens. Neither is a once-a-year visit by a guest speaker. "Research in the alcohol- and drug-prevention field in general is pretty clear on the fact that education-only approaches don't really work in terms of reducing use," he says. "There are approaches that do work, but they require more time, effort and resources, and are thus more difficult to implement."
One takes the form of brief counseling sessions where individuals set usage goals and receive motivational feedback. Another represents a low-cost alternative to face-to-face interventions and involves having individuals fill out a series of questionnaires about their alcohol use, then matching up results with social norm data. "They get the feedback without meeting with an individual," says Martens, whose latest, yet-to-be-published research examines such methods. "What we've found is that something like this, tailored specifically to athletes, is effective at reducing high-risk drinking."
There is no "magic bullet," he adds, though clearly NDSU, FSU and Iowa have demonstrated a willingness to tackle the issue head-on. Says Martens, "If athletic directors are really serious about wanting to deal with these problems, they have to invest the resources into doing it right."