Asking for donations in an uncertain economy can be challenging, but athletics development is perhaps more critical now than ever.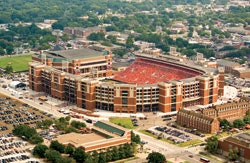 Soon after Northern Illinois University announced in October that the Huskie Athletic Scholarship Fund had for the third consecutive year grown in both number of donors and total donations (the $1.3 million committed during the 2009 campaign nearly doubled the 2006 amount), some 30 schools contacted NIU senior associate athletic director Tim McMurray to ask him how his development team did it. That roughly a quarter of all Football Bowl Subdivision athletic departments sought answers to their own fundraising dilemmas told McMurray, the current president of the National Association of Athletics Development Directors, just how widespread economic uncertainty has become among his peers.
"We're not splitting the atom in our profession," McMurray says. "When I got here almost four years ago, the average gift to our annual fund was $179. Well, that's deplorable. So we created a comprehensive donor communication plan, through which our donors know what the benefits are of giving up a little more discretionary income."
That meant telling prospects that a gift increase from $100 to $250 would provide a coach with an extra recruiting trip, or that a jump from $250 to $500 buys summer school books for a student-athlete looking to graduate on time. "We've invested almost $700,000 of new money into our sport program operating budgets over a three-year period," McMurray says, "because we created a funding model that spoke to specific causes."
Development is a cause that athletic departments are funding like never before. At 751 professionals, NAADD membership is at an all-time high. The Ohio State University athletic department, with an annual budget of $115 million, employs nine full-time development professionals and one intern. Even Northern Illinois, with its comparatively modest $20 million athletic budget supplemented generously by student fees, has a development staff of five full-timers, two graduate assistants and an intern. Says McMurray, "The days when the development person was just the former coach or the fundraiser from a local charity organization are gone."
In today's climate of tight credit and tighter purse strings, the pressure on development professionals - some of whom may be counted on to secure as much as a third of their department's operating budget - has never been greater. In an effort to "isolate the financial impact of athletics on the respective educational institutions," the NCAA announced in October that schools would no longer be able to count university subsidies, student fees and state lottery proceeds among overall athletics revenues, placing more departments than ever in the red in the association's eyes. Moreover, a majority of FBS presidents surveyed in a Knight Commission report released the following week said they support further study of athletics spending, but given the choice would favor boosting revenue instead. Any reduction in spending, Big Ten Conference commissioner Jim Delany told The New York Times, would likely raise the ire of campus constituents - with donors leading the charge.
"In general, private gifts are more and more important to institutions and their athletic programs, and that's across the country," says Marija Pientka, associate athletic director for development at the University of Wisconsin, where 97 cents of every dollar gifted to athletics directly benefits the program earmarked by the giver. Still, two pending projects - a $27 million hockey/swimming facility and a $45 million student-athlete support center - have yet to see a combined goal of $17 million in new private gifts realized. "We've had some success," Pientka says. "I won't lie to you and say that it has been easy, because it hasn't. But, I think all of us in this business are probably working two or three times as hard to get the same results we may have gotten a couple years ago."
In many athletic departments, efforts are being focused on development because it holds the most, if not the only, revenue-enhancement potential. "There are only so many tickets that you can sell and only so many sodas that you can pour," McMurray says. "But the one area in our profession where there's no ceiling is the number of private dollars you can bring into your program."
There are only so many prospects, too, and McMurray has sat in university development meetings and successfully defended the athletic department's fundraising turf. "My spiel that I pull out quite often is that we don't have graduates from the college of athletics," he says. "So, if there's a former letter-winner, no matter what his or her major was, or if there are some who have a definitive interest in athletics - they've been a season-ticket holder or they've been donating to athletics on their own with no real solicitation structure - then we on the athletic side should have first crack."
Getting to the "ask" is only the beginning. "If you ask enough people, you're going to get a lot of no's," McMurray says. "What really separates a good development officer is if you can get to the root of the no. Is it no to timing? Is it no to the amount? Or is it no to the cause? If it's one of the first two, that's forgivable. We can work around that - we can get into payment plans or we can lower the amount of the ask. If it's no to the cause, then we've got work to do internally. People have to feel good about your cause."
By the time Grant Swallows took over Tennessee Tech's athletics development operation in May 2008, a lead donor had already been identified for a proposed $2 million strength-and-conditioning center, but it wasn't until October of this year that the individual committed $250,000 - the largest single gift to athletics in university history. "It was quite a process," says Swallows, who expects at least some of the balance to be bonded if construction is to begin, as is the hope, no later than February. "We would prefer that it be all privately donated money, but we are in a market that just doesn't lend itself to our timetable. It's a tough time to be out there raising money. People are still giving; they just don't have as much to give. We felt like we needed to hurry, not only because of this lead gift, but also because of the nature of our program and where it is. We feel like this is the thing that's going to take us to the next level."
While the Tech donor has chosen to remain anonymous, high-profile gifts elsewhere have come with strings attached. The University of Kentucky's board of trustees voted Oct. 27 to accept a $7 million gift toward the construction of new basketball player living quarters, with the understanding that the facility be called the Wildcat Coal Lodge. The donor group behind the gift is led by Alliance Coal CEO Joseph Craft, whose name already graces a UK basketball practice facility. Students protested the vote, and the irony that the new building is expected to meet U.S. Green Building Council LEED standards was not lost on certain media outlets.
Four years ago, Texas oil tycoon and Oklahoma State University alum T. Boone Pickens gave $165 million to Cowboy Athletics Inc., a nonprofit corporation with a board of trustees that includes Pickens. The entire gift was invested in Pickens' energy hedge fund, peaking in value at $400 mil-lion, but worth only $125 million by October 2008. According to The Chronicle of Higher Education, the devaluation forced the university to shelve ambitious plans to construct an OSU athletics complex and borrow $38 million just to complete one aspect of it - a seven-story end-zone office/gym/locker structure that debuted in August and completed a three-phase rebuild of Boone Pickens Stadium.
When McMurray arrived at Northern Illinois in March 2006, the athletic department had already raised $7.1 million toward a $7.5 million student-athlete support facility to be built in the south end zone of Huskie Stadium. By the time it opened in August 2007, the Jeffrey and Kimberly Yordon Center had grown into a $14.9 million project - thanks to expanded fundraising efforts. "We kept having success, so we opened things up a little more," McMurray says. "We decided we were going to build the right building rather than just the most value-engineered, convenient building."
Now, a few short years and one economic meltdown later, a new challenge has presented itself. "An indoor practice facility in this region of the country is a legitimate need," argues McMurray, noting that a majority of Mid-American Conference schools either have one or have one in the works. "We couldn't practice outside once last year while getting ready for our Independence Bowl game." Lacking a campus facility, the NIU football team practiced in reduced numbers during 90-minute windows afforded by the local park district inside its recreation center. The Huskies then lost their matchup with Louisiana Tech, 17-10.
Some causes speak for themselves.
"Our donor base and alumni understand we have a need," says a confident McMurray, who nonetheless pledges to communicate this and future athletic department needs to each and every NIU alum. "I say it all the time - until we have 213,000 people who have said no, we have work to do."