Deregulation. Job creation. Putting food on the table. It may sound like tired election-year rhetoric, but these are issues foremost on the minds of members of the Collegiate & Professional Sports Dieticians Association.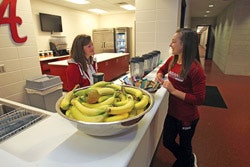 Among dozens of NCAA reform concepts currently under discussion is the idea that any given institution should be able to feed student-athletes at its own discretion. Since 1991, association rules have allowed schools to serve one training table meal per day in season, thus permitting student-athletes, who have nutritional needs that exceed those of the typical college student, the type of extra benefit the NCAA normally prohibits. Feeding rules now on the books address everything from impact on financial aid packages to what foods student-athletes can actually be fed and when.
"This is the kind of silliness that consumes the day of the university compliance officer - whether a student-athlete got some peanut butter instead of peanuts, or yogurt instead of milk," says CPSDA past president Dave Ellis. "That's why we're trying to deregulate it. It's ridiculous. If you overfeed an athlete, they'll just get fat. That's all there is to it."
"Let's take all of these questions - 'Is this a snack? Is this a meal? Is this a rehydration beverage?' - and just throw them away, and allow athletic departments to feed within their respective budgets and take care of their athletes," says Amy Bragg, the University of Alabama's director of performance nutrition and the CPSDA's current president. "Nobody has the incentive to overfeed athletes."


There may be incentive to hiring someone like Bragg, who joined Alabama in 2010 after spending six years at Texas A&M. Roughly one in every four FBS athletic departments is staffed with a Sports RD (the RD stands for registered dietician), and the numbers are rising. Schools that haven't earmarked the resources for such hires (a full-time Sports RD can command an annual salary between $50,000 and $100,000) may find themselves at a competitive disadvantage, according to Ellis. "If schools want to sit back and pretend like this is beyond their scope to manage and to fund, that will be a handicap that they will have to overcome with every mother and father of every recruit who comes in, because, honestly, that's really where the rubber meets the road," he says. "Parents and prospective student-athletes should be asking, 'Is something as fundamental as my welfare and feeding going to be considered, and what do you have in place?' "
Competitive equity is often cited as the reason behind the one-meal-per-day training table rule, but the measure the NCAA has long regarded as liberating (a permissible extra benefit) is seen by today's Sports RDs as limiting. "With one meal a day, we can't even make them whole again as far as what we take out of them," Bragg says. "We impose activity, we create caloric demand, we create inflammation with the training and the work that they do, and food can mediate that. We have the need to feed them better.
"I think we're coming to the conclusion that you can't legislate parity," she adds. "There's no way to make rules that absolutely level the playing field. What gets lost when we try to do that is taking care of the athletes."
Ellis says that current regulations leave student-athletes susceptible to unhealthy weight gain via what he calls the "freshman-15 food supply" provided through typical campus meal plans. "When all these athletes move off campus, that's when the real vulnerability occurs," he adds, "because now we're making the assumption that they're going to shop, store and prepare meals with their limited time and resources, and it's just not happening."
Indeed, feeding student-athletes nutritionist-prepared meals becomes a teachable moment, according to Bragg. "Every time we offer a meal, it's an educational opportunity for the athlete to make a nice plate. Here's how you build a salad. Here's how you make a round meal. Here's how much protein you need. This is the leanest protein of these choices. You need more carbohydrates than you have right now," she says. "So when the Sports RD arranges the menu and works that meal, it's like a learning lab for nutrition."


Ellis contends that NCAA administrators focused on student-athlete welfare are starting to learn, too. Mary Wilfert, an NCAA associate director for health and safety, indicated as much when addressing the 2012 CPSDA conference in May, and Lynn Holzman, an NCAA director in academic and membership affairs, says membership feedback on feeding deregulation has so far been positive. Says Ellis, "They know that if we deregulate feeding and student-athletes are guided to a sound food supply, there's less chance that they'll be vulnerable to a) becoming binge eaters and b) living off dietary supplements that could be adulterated. So feeding is a good thing, and having a Sports RD around to bring food to life is a good thing, and the NCAA knows that. But they didn't write the rules. They just administer the rules."
According to Holzman, the working group reviewing the NCAA Division I rules manual is at least reconsidering competitive equity's place in rule-making philosophy. "We're going to make sure that there should be the same rules about academic standards, there should be the same rules about the number of contests you can play. But there are other places where competitive equity should no longer be the focus," she says. "Student-athlete benefits is one of those key areas. Still, it remains to be seen how much that notion is going to be embraced by the total Division I membership."
For Sports RDs like Bragg and Ellis - who thought the NCAA was going to include feeding deregulation in this year's legislative cycle (the CPSDA has prepared talking points and a position statement on the subject) only to learn that it won't be voted on until January 2014, at the earliest - a decision can't come soon enough. "Nowhere else in sports do we have rules that limit something as fundamental as feeding," says Ellis, who would like to see transparency among eventual NCAA voters. "Let's hope they correct it. Quite frankly, if they don't, they ought to be held accountable."