The madness of March basketball might have faded until 2014, but a series of stall-ball incidents during high school hoops tournaments earlier this year provoked a different kind of madness.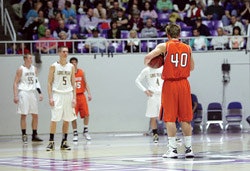 In what
Deadspin.com
called an "abortion of a second quarter," Muskegon Heights Academy stalled for all but about 30 seconds of that eight-minute quarter in a Michigan Class C regional semifinal game against Galesburg-Augusta in March. Players simply held the ball near midcourt as boos rained down from the bleachers, occasionally passing to each other and finally running a play that didn't result in a basket. Muskegon Heights won, 58-44.
A couple weeks earlier, Brighton High School's strategy in a Utah Class 5A state semifinal against Lone Peak - the eventual MaxPreps National Champions - was to air only one shot during seven minutes of the second quarter before ultimately falling hard, 53-27. Brighton coach Jeff Gardner defended his actions to the Deseret News: "The plan wasn't to stall. The plan was to draw them out. We felt that was our best chance offensively - to space the floor and give our guards more room."
"I don't blame Jeff Gardner," Lone Peak coach Quincy Lewis added. "I think what this lends itself to is - hey, let's get a shot clock."
"We need a shot clock," echoed Eagle's Landing High School boys' basketball coach Clay Crump after his McDonough, Ga., team won a first-round Class AAAA tournament game, 39-13, against Albany High - which gave its point guard the ball in the third quarter and let him stand motionless just inside the half-court line for almost three minutes. Twice. "We practice to play basketball, not to play catch," Crump continued. "It's kind of an admission from the other team that they don't really want to play with us, and we understand they probably did what they thought was best to give them a chance."
That "give them a chance" strategy is the rationale used repeatedly - most recently last year - by the National Federation of State High School Associations in its refusal to officially adopt a shot clock. Playing keep away, says Theresia Wynns, director of sports and officials education for the NFHS, is "just part of the arsenal that coaches need to have as it relates to playing the game and being competitive."
DRAWN-OUT-PROCESS
The debate over whether high school basketball needs a shot clock has raged for years. The NBA was the first to introduce a 24-second one in 1954; women's college basketball adopted a 30-second shot clock for the 1970-71 season; and the NCAA debuted a 45-second shot clock for men for the 1985-86 season, reducing it to 35 seconds by the 1993-94 season. Another shortening of the shot clock was discussed but not recommended in early May.
But the NFHS has held steadfast in its belief that a shot clock is not needed at the high school level. Wynns says the federation's Basketball Rules Committee has addressed proposals to add a shot clock multiple times in recent years, including one in April that again failed to garner enough support. Financial barriers to approving such a proposal include requiring schools to purchase or rent a shot clock - or an entire new scoreboard - as well as hiring and training people to operate it. Opponents also cite concerns about the need to train officials and a potential reduction in quality of play as teams rush their shots. On the other hand, a shot clock could force teams to run tighter, more effective offenses.
The Minnesota State High School League partially adopted a shot clock before the 2007-08 season and allows its use in nonconference games and holiday tournaments. Reports from schools that use it suggest there has been little controversy, although many administrators cite the associated costs.
Only eight states (California, Maryland, Massachusetts, New York, North Dakota, Rhode Island, South Dakota and Washington) allow unlimited use of a 30- or 35-second shot clock, and that breach of NFHS rules denies them a position on the Basketball Rules Committee.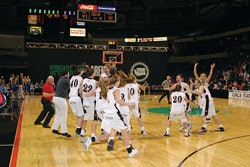 "After every boys' state tournament, if there was a time when coaches were running the spread offense - and I prefer to call it that instead of the 'stall,' even though it's basically the same thing - we would get complaints from fans. We need to make our events appealing to parents, community members and other spectators, who are the ones that fund all the great programs we offer," says Cindy Adsit, an assistant executive director of the Washington Interscholastic Activities Association, which has allowed a 30-second shot clock for girls since 1974 but didn't add a 35-second shot clock for boys until the 2009-10 season, after more coaches than not finally indicated support for one. There has been little dissent since.
"Frankly, it became a generational thing," Adsit continues. "Coaches who have been coaching for a long time like the spread as an option. Younger coaches who have grown up watching college and professional basketball, and play in summer leagues with a shot clock, believe using a shot clock is the current state of the game and that's how it should be played."
EXCEPTIONS TO THE RULE
A survey conducted by the Idaho Falls Post-Register in February indicated that 61.7 percent of high school head basketball coaches in that state favor a shot clock, and support was nearly equal among boys' and girls' coaches. Pat Corbin, executive director of the New Hampshire Interscholastic Athletic Association (which addresses the topic every year) has gone on record stating that "probably the majority of people would favor a shot clock," and there's even a Twitter page called @ShotClockHS, which is dedicated to establishing a shot clock in every state.
For now, though, interscholastic sports administrators at the National Federation and in states like Washington are each doing what they think is best for their members - with no consensus in sight. "Nobody likes to make exceptions to the rules, no matter what it is," Adsit concludes. "And we'd like to be following the rules. We just believe this is the right way to do it, and we haven't been able to convince those other states that they need to come on board."