Arkansas House Bill 1789, Indiana House Bill 1399, Colorado House Bill 1095, Ohio House Bill 59. All four represent legislation passed this year around the same issue: allowing homeschooled students to participate in high school sports.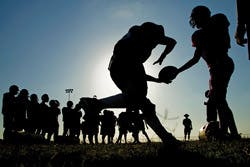 Arkansas House Bill 1789, Indiana House Bill 1399, Colorado House Bill 1095, Ohio House Bill 59. All four represent legislation passed this year around the same issue: allowing homeschooled students to participate in high school sports. Similar bills have recently passed in other states as the movement for homeschooled kids' inclusion in public high school activities continues to pick up steam. More than half of the states have passed a bill in support of homeschooled athletes, and while all impacted states have different numbers associated with their respective bills, most are known by their unofficial name - the Tim Tebow Bill.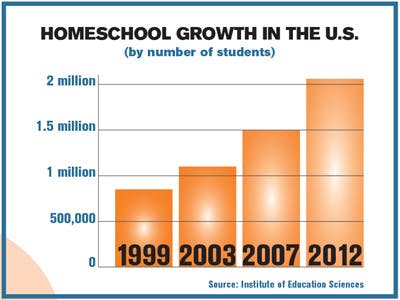 The issue of homeschooled children playing high school sports was first thrust into the national spotlight when Tebow, the youngest of five homeschooled children, led Allen D. Nease High School in Ponte Vedra, Fla., to a state football championship one decade ago. But that championship wasn't without controversy. Tebow originally played for local Trinity Christian Academy but moved - a move deemed controversial as Florida law, passed in 1996, stipulated that homeschooled athletes could play only for their local high school. Regardless, Tebow became the poster child for equal rights for homeschooled athletes, earning the unique distinction as the first homeschooled Heisman Trophy winner in history. He nearly had company last year when Kansas State quarterback and fellow homeschooler Collin Klein finished third in the voting.
Tebow's continued battle with criticism and adversity parallels the battle homeschooled children and their parents face across the U.S. today. According to the National Home Education Research Institute, there are more than two million homeschoolers across the country, many of whom are caught between supporters and protestors of this movement. One state that fought, and won, this battle recently used something special: one of its own leading the charge.
HOMESCHOOLED HOOSIERS
Republican representative Tim Wesco was homeschooled as a child and was the man responsible for introducing a bill that allows students from non-accredited nonpublic schools to participate in Indiana High School Athletic Association athletics. Wesco and other advocates of homeschooling have long argued that tax-paying families that support these schools should have the same rights regarding participation in extracurricular activities. But IHSAA commissioner Bobby Cox, who testified against the bill earlier this year, has lobbied against inclusion due to the inability to accurately monitor eligibility - a common sentiment amongst legislators, athletic directors and school administrators.
Previously, the homeschool environment was such that there were no qualifications for the parents responsible for educating their children. Schools would have to take parents at their word that their children were completing their coursework at a high level with little to no proof. But many of the bills being passed today require homeschooled students to participate in public school classes on a part-time basis, or enroll as a student at the high school on a full-time basis.
The bill in Indiana, for example, originally died in the General Assembly in 2011 but passed recently with one important revision: Students must be enrolled at that school in at least one class. The Wisconsin Interscholastic Athletic Association, by comparison, has long required that all of the state's public school athletes be enrolled full-time at their schools, though no such requirement exists for participants in other school activities, according to Jeff Schreiner, assistant principal and activities director at Monona Grove High School in Monona, Wis.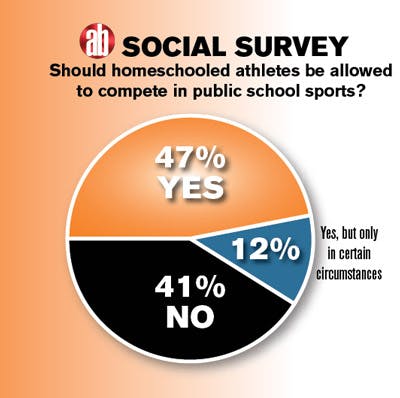 "Homeschooled kids are not allowed to participate in our athletics, but we can involve them in our activities. If they are homeschooled, they are still a piece of our communities, and we want to try to engage them as much as we can," says Schreiner, who oversees both Monona Grove's athletics and activities. During his 14-year tenure as athletic director, he comments that he has only been asked half a dozen times if a homeschooled student can participate in a sport at the school. "I understand the WIAA rule," he says. "You can't be homeschooled on the outside and then play in our athletic programs at night. I think they have to go through the same challenges that every other kid does in order to receive that privilege."
Another concern that Schreiner expresses is the connection homeschooled kids make with public school kids when they participate in community club sports together, specifically citing the impact it has on the children when they are divided during the school year.
"Some of our kids will play with those kids in community clubs, and socially they are connected. But as the school year starts, they disconnect a bit," says Schreiner. "I think what the kids want is to play together, and that puts pressure back on the school sports scene. Sometimes, it'll pull a kid out of the sports scene at the school so they can play in a club with their friend who's being homeschooled."
SUCCESS OUTSIDE SCHOOLS
While parents who homeschool their children continue to fight with school systems and lobby lawmakers for change, Chris Davis can't help but wonder one thing: Why?
Davis, a homeschool coach since 1991, is the founder of Homeschool Sports Network (www.hspn.net), an online resource designed specifically to help parents of homeschoolers connect with local homeschool teams and tournaments. His network has exploded since its inception in 1997, with national tournaments welcoming as many as 400 homeschool-only teams. Which leads Davis to wonder why there is such a fight to penetrate the local public school sports arena when there are so many opportunities available to the homeschooled athlete today.
"Just the premise that homeschoolers need public schools - they don't, because of all the Division 1 scholarships that are going to homeschoolers now," says Davis. "I don't see the need for it." Davis admits his belief may not be the most popular among homeschool parents, as many still identify high school sports as the best way to have their children seen by NCAA coaches and professional scouts. "People say, 'We need access,' but is that what you're going to school for, to take sports? I think people are mixed up a little bit. I reject the premise that public school is the almighty route that one needs to get to."
In states such as North Carolina, Illinois, Indiana, Kansas and Davis's home state of Virginia, to name a few, there are homeschool state championships for a variety of sports - events that provide the type of visibility, along with participation in AAU events, to get kids seen by coaches and scouts without utilizing the public school system. On Davis' site, he has a list of alumni from homeschool teams around the country that have gone on to play Division I sports. "I just don't see public school sports being anything that we don't already offer or couldn't be obtained," Davis argues. "I don't see a plus side to it."